Main Content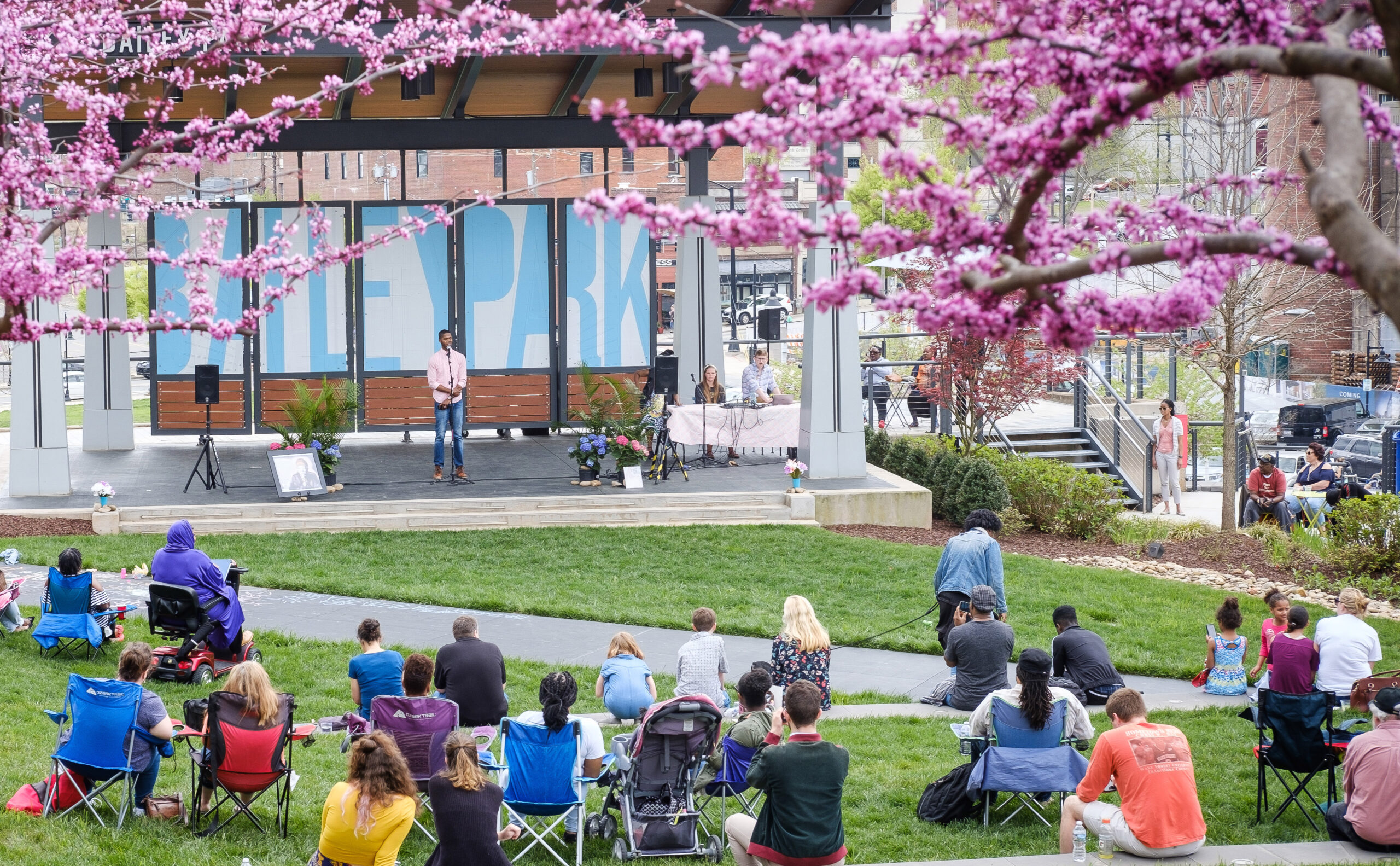 Wake Forest University is hosting the annual Maya Angelou Garden Party this Sunday, April 3, from 2-4 p.m. in Bailey Park in Innovation Quarter.
The event celebrates Angelou's April 4 birthday, is always held on the Sunday closest to it and is free and open to the public. Registration is not required to attend.
The Garden Party is co-sponsored by Wake Downtown and the Z. Smith Reynolds Library, with assistance from the University's Traditions Council.
First held in 2019, the Garden Party features poetry and spoken word art performances. There are a few slots left for artists who would like to perform. To sign up, go here.
Cupcakes, tea and lemonade will be served at the Garden Party, and attendees are encouraged to bring lawn chairs or picnic blankets on which to sit. Corn hole games, hula hoops and sidewalk chalk will be available for children and adults to enjoy. And representatives from the Maya Angelou Center for Health Equity will be on site to disseminate information and accept donations. To donate, go here.
"It's been a long two years of not being able to have in-person events," said Alana James, associate director for community engagement, Wake Downtown. "This almost feels like a new event because we weren't able to have it in person last year or the year before. The weather forecast looks like it's going to be beautiful on Sunday, and I think people are excited to get outside and be in community."
When the COVID-19 pandemic hit in 2020, organizers scrambled to produce a podcast for the Garden Party. With more notice in 2021 that it couldn't be held in person, they produced a video project – both of which are available on the Wake Downtown website.
At this year's Garden Party, a moment of silence will be observed for Angelou's son Guy Johnson, who passed away in February at age 76. As part of the inaugural Garden Party in 2019, the Office of Diversity and Inclusion hosted a community conversation, and members of the Angelou family and her extended family attended.
Angelou, a poet, actress, author and civil rights activist, became the University's first Reynolds Professor of American Studies in 1982 and taught at Wake Forest until her death in 2014. A residence hall is named after her.
Last year, the University announced it was establishing the Maya Angelou Artist-in-Residence Award. The award will honor world-renowned artists who reflect Angelou's passions for creating, performing and teaching and will celebrate exceptional artists for combining achievement in the arts and a commitment to improving the human condition in the spirit of the University's motto, Pro Humanitate. The award winners will visit Wake Forest to educate and engage students, as well as collaborate with faculty. The first winners will be announced this spring.
It was also announced in 2021 that Angelou would become the first African American woman whose image would grace the U.S. quarter.
For more information, please contact media@nullwfu.edu or James at jamesam@nullwfu.edu.
Categories: Community, Community in Progress, Events, For Alumni, For Parents, Top Stories