Main Content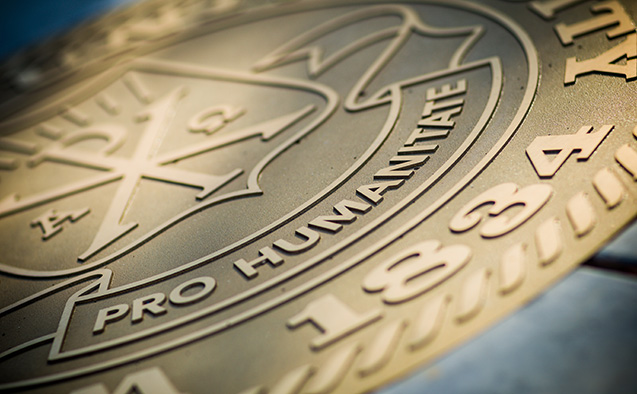 Wake Forest University President Susan R. Wente has appointed Michele Gillespie, current Dean of Wake Forest's College of Arts and Sciences, to succeed Rogan Kersh as University Provost, effective July 1, 2022.
"I am deeply grateful to Dr. Kersh for his service to Wake Forest over the last decade, especially for his kindness and partnership during my first year as president," Wente said.
Kersh received his B.A. from Wake Forest in 1986 and returned as Provost and Professor of Politics and International Affairs in July 2012.
"Ten years is a good long run in this demanding role," Kersh said. "I have loved engaging with the incomparable Wake Forest community on and beyond campus every day, with so many colleagues I've learned from and am honored to call friends. While I have cherished the opportunity to help advance the core University mission of learning, research and creative work, I am also delighted to return to the classroom and research activity full time."
Kersh has taught at least one course each semester during his 10 years as provost and has maintained an active program of research, academic talks and publishing.
"Dr. Kersh has been an exceptional chief academic officer," said Divinity School Dean and Dean of Wait Chapel Jonathan Lee Walton. "People often are amazed at the collaborative and collegial relationships among the deans. Provost Kersh set the tone. Rogan has modeled meaningful collaboration for deans, department chairs and program leaders."
During Kersh's tenure, the University broke new academic ground:
Sponsored research support among Reynolda Campus faculty more than doubled, placing Wake Forest among the national research universities realizing the most significant increases.
Wake Forest expanded its academic footprint dramatically, opening the Wake Downtown campus and adding robust new programs in Charlotte, Washington, Silicon Valley, Barcelona, Copenhagen, Santiago/Southern Cone, Florence, and multiple locations in China.
Wake Forest's full-time faculty ranks expanded by more than 125 teacher-scholars during Kersh's tenure, helping to accommodate the University's growth of about 675 undergraduates and almost 500 Reynolda Campus graduate and professional students.
Kersh chaired academic fundraising efforts during the Wake Will campaign, which raised more than $700 million for scholarships, faculty support, academic and arts programs, and classroom, faculty, laboratory and performance spaces and buildings.
Working in partnership with Executive Vice President Hof Milam, Kersh helped the University transition to a new budget model, leading to expanded funding for academic initiatives, faculty and staff salaries and support, facilities renewal, and successful management of the fiscal challenges posed by the pandemic.
Jeanne Whitman Bobbitt ('79, MBA '87), University Trustee and Chair of the Academic Committee, praised Kersh's contributions to the University: "Rogan's extraordinary intellect and his innovative and collaborative leadership enrich Wake Forest's deep academic tradition. He represents the best of Wake Forest – intellect, imagination, superb scholarship and generous heart. The academic committee of the Board of Trustees looked to him as guide, partner and friend in the complex planning and decision making undertaken by the Board in support of academic matters."
Kersh has been a mainstay of the University's expanded community-partnership efforts, serving on multiple local boards such as United Way, Leadership Winston-Salem and the River Run Film Festival, and accepting a mayoral appointment to chair an expansive effort to alleviate urban and rural poverty in Forsyth County.
After his sabbatical year, during which time he plans to travel and teach abroad, Kersh will return to Wake Forest to continue his teaching and research at Wake Forest as Distinguished University Professor.
Since arriving at Wake Forest in 1999, Gillespie has established herself as a respected teacher-scholar and administrator. She will return to the Provost's Office, where she served as associate provost for academic initiatives from 2007 to 2010, to begin her initial two-year term on July 1.
"When considering Dr. Kersh's successor, I knew Wake Forest would be well served by another leader who embodied the teacher-scholar ideal," Wente said. "Dr. Gillespie has earned great respect for her ability to balance academic rigor with holistic learning and community engagement."
Gillespie began her tenure as the Dean of the College in July 2015. She has an M.A. and Ph.D. in History from Princeton University and a B.A. from Rice University, where she majored in History and English. Prior to her time at Wake Forest, Gillespie spent nine years at Agnes Scott College, where she taught U.S. History.
Gillespie was named Kahle Faculty Fellow in 2004. She was honored as a pioneer in the service-learning field with North Carolina's Robert L. Sigmon Service Learning Award in 2010. Since 2013, she has been the Presidential Endowed Professor of Southern History. In 2014, she worked with honors students in the history department and Special Collections and Archives to collect 30 oral histories of parishioners at St. Benedict the Moor Catholic Church to celebrate the church's 75th anniversary. For her work on the project, she received Wake Forest's Kulynych Omicron Delta Kappa Award, which recognizes faculty who bridge the gap between the classroom and student life.
Gillespie has published two prize-winning books, as well as articles, book chapters, and 10 co-edited books, all focusing on race, gender, class and political economy in the history of the South.
Since her appointment as Dean of the College, she has prioritized department chairs' leadership development; developed inclusive excellence practices and policies; co-chaired the President's Committee on the First Year-Experience; completed a major core curriculum review; and facilitated increased interdisciplinary and community-engaged teaching and learning in partnership with the Mellon Foundation and the Humanities Institute. Her priorities this academic year include exploring the creation of an Office of Experiential Education and faculty development for and implementation of faculty-supported core curriculum changes.
"Across the Undergraduate College, Graduate School and our professional schools, Wake Forest faculty, staff and students are second to none," Gillespie said. "To serve as the University's next chief academic officer is a tremendous honor."
Senior Associate Dean Anthony Marsh will serve as Interim Dean of the College, effective July 1, while the University engages in a national search for a new Dean of the College. Marsh came to Wake Forest in August 1996 and has served in a number of administrative leadership roles. In addition to his administrative roles, as professor of health and exercise science, Marsh teaches undergraduate courses in Anatomy and Biomechanics. He is an affiliate faculty member in the VT-WFU School of Biomedical Engineering and Sciences and in Gerontology and Geriatric Medicine in the Department of Internal Medicine at the Wake Forest School of Medicine.
Categories: Alumni, Faculty, For Alumni, For Parents, Provost, Top Stories, University Announcement, Wake Forest College
Wake Forest in the News
Wake Forest regularly appears in media outlets around the world.