Main Content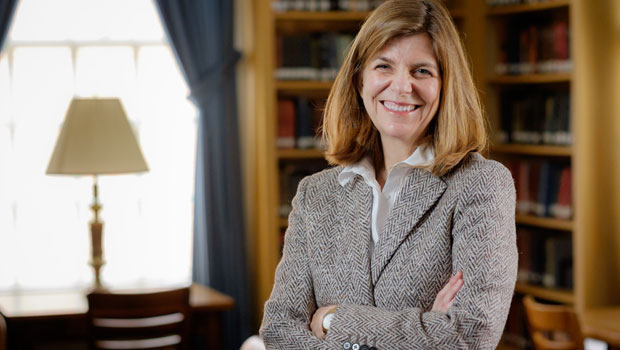 Wake Forest University has appointed Presidential Endowed Professor of Southern History Michele Gillespie as Dean of the College, with academic oversight for the undergraduate school of arts and sciences. Gillespie will begin serving as dean July 1.
Gillespie joined the Wake Forest faculty in 1999. She was named Kahle Family Professor of History in 2003 and served as associate provost for academic initiatives from 2007-2010. In 2013, Gillespie was the first Wake Forest faculty member to be honored with an endowed Presidential Chair, which recognizes and supports faculty who excel in both academic leadership and outstanding scholarship. She also serves as the faculty representative to the Advancement Committee of the Board of Trustees.
"I am humbled and thrilled to be assuming the role of dean of the college," Gillespie said. "Since arriving at Wake Forest, I have come to know and respect the many incredible faculty and staff who are committed to making Wake Forest a place of transformative education for our students. I look forward to working together with those faculty who have been with Wake Forest for many years and those who are newer to our community and those yet to join us in our pursuit of academic excellence."
She is the author or co-editor of twelve books. Her most recent nationally-recognized work, "Katharine and R.J. Reynolds: Partners of Fortune in the Making of the New South," presents 10 years of in-depth research on R.J. and Katharine Reynolds, on whose 300 acres of property Wake Forest now stands.
A noted teacher, scholar, historian and author, Gillespie balances academic rigor with integrating community engagement into her work and her classes. In 2010, she was honored as a pioneer in the national service-learning field with North Carolina's Robert L. Sigmon Service Learning Award. She is currently working with history honors students on providing St. Benedict the Moor Catholic Church in Winston-Salem with 30 oral histories of parishioners to celebrate the church's 75th anniversary.
"During our search, which attracted top-flight candidates literally from across the globe, it became clear that Michele possesses the understanding of teaching, scholarship and community that are essential for guiding Wake Forest's undergraduate academic experience and scholarly mission," said Wake Forest Provost Rogan Kersh. "Her combination of experience in multiple roles, abiding love for our institution and passion for enhancing students' lives, and national reputation, made her an ideal choice."
Gillespie earned an M.A. and Ph.D. from Princeton University and a B.A. from Rice University.
Categories: Campus Life, Faculty, For Alumni, For Parents, Top Stories, University Announcement, Wake Forest College
Wake Forest in the News
Wake Forest regularly appears in media outlets around the world.