Main Content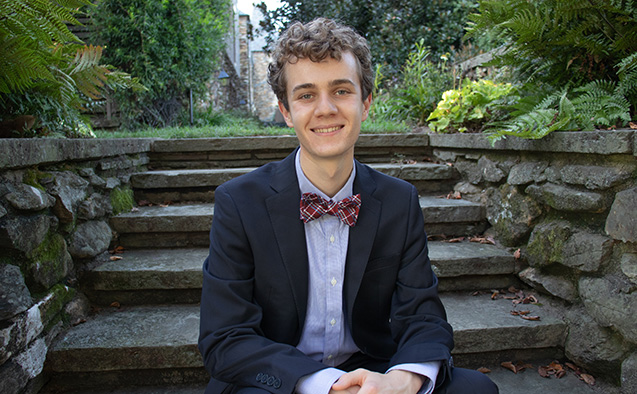 Junior Tal Feldman, who is majoring in economics and mathematics, has been named a 2022 Truman Scholar.
The Truman Scholarship, President Harry Truman's living memorial designed to support the future of public service in America, is the most competitive national scholarship program for juniors in the country. Out of 705 applications, 58 college students from 53 institutions were selected. 
Students receive up to $30,000 to support graduate or professional school studies, participate in leadership development activities, and join an alumni network that includes such famous individuals as Stacey Abrams, Susan Rice, and Daniel Pink.
Feldman, who is from Fort Worth, Texas, is spending his junior year abroad at the London School of Economics. He is also a Stamps Scholar.
"Winning a scholarship like this really takes a whole village. It took professors who inspired me, great friends who worked with me, and my family who supported me." Tal Feldman
Truman Scholarship Faculty Director and sociology professor Hana Brown describes Tal as an accomplished data scientist who holds a deep conviction in the ability of artificial intelligence and machine learning to transform government for the better. "He pairs this conviction with a thoughtful reverence that makes him an influential leader and committed public servant."
"I hope to use my skills in AI and data science to make the government more effective at helping its people," said Feldman. "However, I want to not only expand the government's use of AI but expand it ethically – making sure that as we harness Big Data, we do so fairly. I am incredibly honored to receive the Truman scholarship and am excited to see how it helps me bring emerging technologies into the public sector."
Ten years ago, Feldman's family immigrated to the U.S. "This country has given me so much since then – a stellar education, job opportunities and security – and I want to give back."
Feldman has established an international reputation as an expert in government-focused AI and machine learning.  Since 2020, he has worked for both the Department of State and the Federal Reserve Board of Governors, building AI systems to solve major challenges faced by each agency.
The on-campus preparation and nomination process for the Truman Scholarship and other external scholarships is coordinated through the Wake Forest University Scholars Office and led by Brown. Interested students are invited to visit the website to learn more and arrange an appointment, and rising juniors should signal their interest over the summer months or immediately upon returning to campus in the fall.
Categories: Scholars, Top Stories