Main Content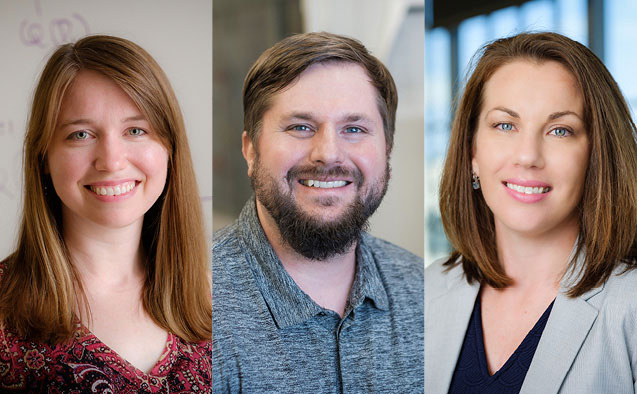 Three Wake Forest faculty – math and statistics professor Abbey Bourdon, chemistry professor John Lukesh and engineering professor Erin Henslee – have been named National Science Foundation (NSF) Faculty Early Career Development (CAREER) Program Award winners.
Each will receive a five-year grant ranging from $400,000 to $625,000 to support their work.
Given to outstanding scientists, the highly-competitive CAREER awards are the NSF's most prestigious for junior faculty and are intended to provide a foundation for a lifetime of scientific leadership that integrates research and education.
Abbey Bourdon
Bourdon studies geometric objects called elliptic curves.
"Elliptic curves are among the most ubiquitous objects in modern number theory," said Bourdon, who holds the A.J. Sterge Faculty Fellowship. "They have far-reaching applications, both in theoretical mathematics – such as in the proof of Fermat's Last Theorem – and in information security where they form the basis of a cryptosystem commonly used to provide secure web browsing."
A central aim of her project is to broaden participation in the mathematical sciences, both at the undergraduate and graduate level. She plans to develop a training program for graduate students to serve as project leaders for undergraduates enrolled in a research exploration course.
John Lukesh
"Receiving this award is truly an honor, but also a testament to the great group of students that I have been so fortunate to work with during my time at Wake Forest," Lukesh said.
In his laboratory, Lukesh works with students to design and synthesize new chemical tools that can be used by the scientific community to investigate the biological significance and therapeutic potential of hydrogen sulfide and hydrogen selenide.
"It is fundamental research that exposes students to a wide variety of topics and scientific techniques at the ever-widening interface of chemistry and biology."
Lukesh will also use the grant to expand outreach activities in the Winston-Salem community, including developing interactive chemistry lectures for middle school children.
Erin Henslee
Henslee's research addresses critical gaps in the knowledge of red blood cells (RBCs) to further understand the early changes in RBC-related diseases such as malaria, anemia and cardiovascular diseases.
"Red blood cells are the most abundant cell in the human body and are responsible for carrying oxygen from our lungs to the rest of our body," Henslee said. "Thus, it is crucial that we understand how these cells work."
The grant will also support her goal of developing students into better science communicators. "Scientific discoveries should be made accessible to those in our communities who need to make informed decisions regarding new technologies," she said.
In addition to advancing research, the award will support education and outreach.
"The award will help bring focus to the broader impact of my research," Henslee said. "This includes mentoring undergraduate research students, using research as a catalyst to engage students in the classroom with new areas of science, as well as engaging the community with research."
Categories: Top Stories
Wake Forest in the News
Wake Forest regularly appears in media outlets around the world.