Main Content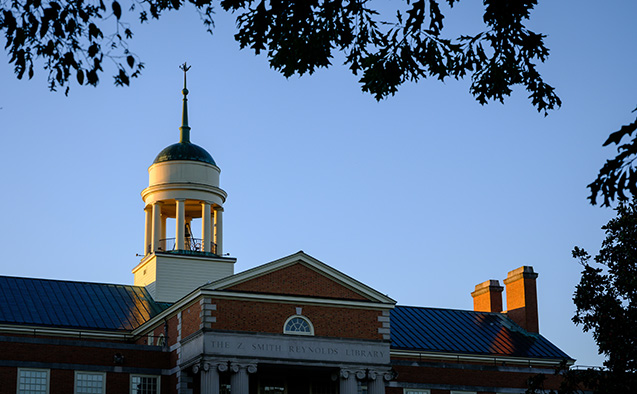 Wake Forest seniors Maya Dalton and Joe McCalmon have been awarded Graduate Research Fellowships from the National Science Foundation. 
The National Science Foundation Graduate Research Fellowship supports outstanding graduate students in STEM by providing three years of financial support to those pursuing research-based degrees. The NSF has a history of selecting recipients who achieve high levels of success in their future academic and professional careers. Past fellows include numerous Nobel Prize winners, former U.S. Secretary of Energy Steven Chu and Google founder, Sergey Brin.

About Maya Dalton
Maya Dalton, who is from Fairmont, West Virginia, plans to pursue a PhD at Pennsylvania State University in political science with a focus on comparative public policy centered around corruption, gender and politics and environmental policy.
"I'm ready to dive into comparative politics and dig even deeper into what I've learned and questioned during my time at Wake Forest," Dalton said. "I'm eager to be challenged, make new connections and have a lasting impact through my future research endeavors."
Her proposed research offers insight into what might be done to slow environmental degradation in non-democratic countries. One crucial concern of climate change questions how governments differ in prioritizing environmental policy, Dalton said. "The purpose of my research is to consider if lowering corruption levels and introducing democratization can assist in fighting climate change."
Dalton, who was encouraged to apply for the fellowship by politics and international affairs professor Justin Esarey, said she would not have pictured herself pursuing a PhD without his encouragement and support. 
"Our random chats about movies and life, paired with hours pouring over code, will be some of my fondest memories at Wake Forest. I am also very grateful to my major advisor, politics professor Betina Wilkinson, for sparking a love for quantitative methods and being a wonderful female role model in the field."

About Joe McCalmon
Joe McCalmon is a computer science major. His research focuses on reinforcement learning – a subset of machine learning used to train autonomous agents, which can perform certain tasks like robotic movement and strategy games at superhuman levels. 
"During my time learning and working with algorithms, I found that they can solve tasks well through trial and error, but as soon as the task is changed slightly, or they encounter situations that were rare during their training, the agents tend to underperform. For certain domains where safety is critical, such as with self-driving cars, we need to make sure reinforcement learning agents will perform at adequate levels in all situations."
McCalmon, who is from Easton, Maryland, started the first robotics club on campus to provide a space for curious students to learn more about the subject. "I've had the wonderful opportunity to witness students who had never had the chance to work with robots before develop a passion for it."
After graduation, McCalmon has accepted a job with a company that works in robot vision and grasping. "By working closely with robots, I will learn more about their physical limitations and capabilities, which will in turn increase my understanding of how intelligent they can be. Once I understand robots better, I will look towards pursuing a PhD in robot learning."
About Wake Forest University Scholars Office
The on-campus preparation and nomination process for the NSF Graduate Research Fellowships and other external scholarships is coordinated through the Wake Forest University Scholars Office. Interested students are invited to visit the website to learn more and arrange an appointment.
Categories: Scholars, Top Stories
Wake Forest in the News
Wake Forest regularly appears in media outlets around the world.