Main Content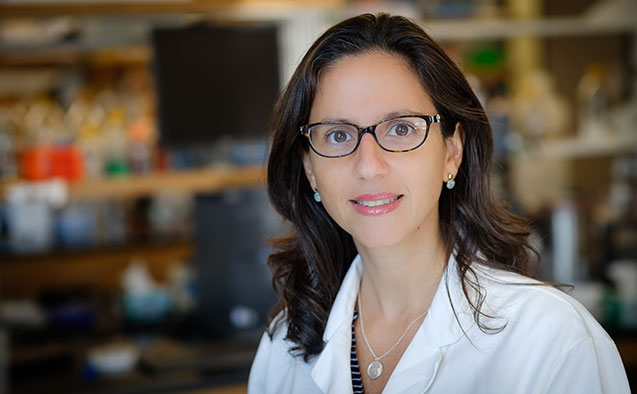 Since a steady stream of social media claims can convince an unwary audience that just about anything is true, Wake Forest chemistry professor Patricia Dos Santos has a new goal for her Biochemistry II students: Use solid science to support or refute those claims – and be sure to share the findings with family and friends.
This is the second year Dos Santos, associate chair of the Chemistry Department, has asked her upper-level biochemistry students to identify a scientific claim, research its authenticity via primary sources, and report back on their findings.
This year's second-semester biochemistry class delved into everything from whether caffeine consumption impedes growth in children to whether using plastics can cause infertility.
The idea for the project arose at the beginning of the COVID-19 pandemic, Dos Santos said, when she was flooded with questions from family members and friends who would ask her to verify claims about the virus.
She said she would take the time to research the videos and links she received, and report back to the sender.
"I thought I should be motivating my students to do that as well – to be active participants in this conversation with our family members," she explained. "We've all been damaged by misinformation, partially because the people who can provide the correct information are not often the loudest voice."
For the project, she asks her students to choose a topic that is relevant to biochemistry but is of interest to the general public, all the better if it's controversial. The students then provide what prompted them to choose the topic, be it a video, flyer, post or even a conversation with a roommate, and gather primary research from peer-reviewed publications.
In the end, students create a presentation that elaborates on the science and offers an informed opinion on the validity of the claim.
Paul Braymen, a rising senior from Fort Worth, researched whether parabens, which are preservatives found in foods, pharmaceuticals and cosmetics, are harmful to humans.
A standard Google search produces more than 100,000 articles and blog posts that say parabens can ruin hair color and cause breast cancer.
But the truth is somewhere in the middle, Braymen determined by reading peer-reviewed studies from scientific journals, the primary sources Dos Santos required for the class. He found that the science hasn't found evidence that parabens are harmful to humans, but research hasn't shown they're safe, either.
"Primary sources were very careful about the way they presented their findings and the limited conclusions they could draw, but pop culture took the most inflammatory parts of the research and ran with it," he said.
After a friend decided to follow the keto diet, which restricts carbohydrates, senior Haoqing Wu decided to look at how the regimen affected cognitive function. The research he found showed that the keto diet can improve brain function, but often after a bout of headaches, fatigue and brain fog in the first few weeks.
The biochemistry and statistics double major from Shanghai said the big lesson, for him, was really about the power of science.
"The project is really guiding me to think about how my knowledge could actually make an impact on the world surrounding me." Haoqing Wu
And that's what Dos Santos wants to hear. Although she covers complex scientific concepts in her Biochemistry II class, she said the most valuable thing she can teach is critical thinking skills, because anyone can google an equation.
"The path to understanding information is more important," she noted. "As scientists, we should not avoid controversial information. It's our civic duty to apply the tools we have used at Wake Forest to be informed and try to inform others."
Categories: Top Stories
Wake Forest in the News
Wake Forest regularly appears in media outlets around the world.