Main Content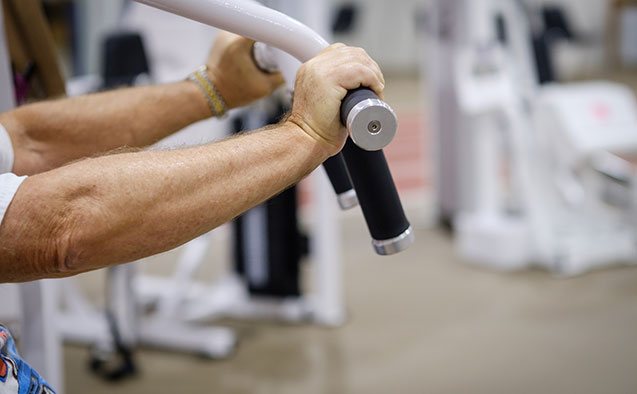 When it comes to helping older adults maintain mobility, research based on Wake Forest University's standard-setting LIFE study has found that a simple, relatively inexpensive exercise and education program pays for itself by preventing major mobility problems and reducing the need for health care services.
Over the course of two years in the U.K., researchers with the Retirement in Action (REACT) randomized, controlled trial followed more than 600 adults with an average age of 77 as they undertook a 12-month program that included either regular exercise, education and socializing sessions, or three workshops on healthy aging topics.
At the end of the study, participants who exercised in REACT made significant gains in their physical functioning and used fewer health care services than those in the control group, effectively covering the cost of the program. The results of the study and the cost analysis appear in The Lancet Public Health.
And that's just looking at two years, noted Jack Rejeski, Wake Forest professor of health and exercise science. He helped design the Lifestyle Interventions and Independence for Elders, or LIFE, study at Wake Forest. Rejeski was a consulting collaborative investigator on REACT who provided expertise on the design and implementation of the intervention.
Whereas the LIFE study was conducted in highly controlled research clinics, REACT recruited through primary care practices and was conducted in collaboration with community partners.
The work in the U.K. builds on what the earlier study by Rejeski and colleagues in the U.S. suggested: Investing in community-based exercise programs for seniors leads to greater mobility and makes economic sense.
"If you followed people for 10 years and kept them modestly active across the day, I think you'd find the payback is enormous," Rejeski said.
Now, Rejeski and colleagues are looking at how different ways of combining calorie restriction and exercise affect the health and mobility of older adults. The nine-month pilot study funded by the National Institutes on Aging is being conducted to inform a large-scale, multi-center trial on traditional calorie restriction and time-restricted eating. The interventions begin this fall.
"We think it's important to keep older adults as healthy as we can," Rejeski explained. "I don't think that you can get people to restrict their calories as they age without being somewhat active as well."
The LIFE research at Wake Forest established the foundation for the REACT study, showing that older adults at risk for major mobility issues as they aged could stave off problems by following a structured, low- to moderate-intensity exercise regimen.
REACT took that idea out of the research facility and into the public domain, showing that this type of exercise program, when offered in places like community centers, can make a huge difference in preventing physical decline as people age.
The research is important because mobility is a key factor in how long people can age in place – and whether they can hold off entering assisted living or similar facilities as they grow older.
"Physical activity carries a wide range of benefits for older people, including a longer and healthier life, prolonged independence and autonomy, better mobility and improved wellbeing," Rejeski said. "Yet, many older people face a downward spiral of declining mobility. The less active they are, the more limited they become. Through REACT, we have shown that this steady decline is avoidable."
Categories: Faculty, Top Stories
Subscribe
Sign up for weekly news highlights.
Subscribe