Main Content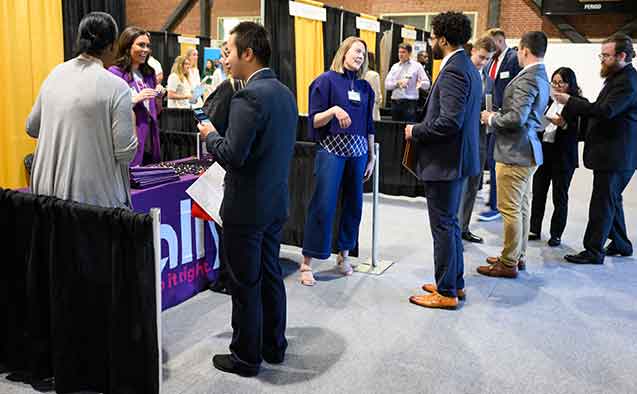 During the pandemic, employers pivoted to remote recruiting. With the tools and technology available to engage college students without having to visit college campuses, many thought that organizations would continue to save time and money by continuing this strategy.
But, it is clear that face-to-face recruiting has an edge over Zoom. In this tight labor market, employers are turning back to in-person recruiting, said Vice President, Innovation & Career Development Andy Chan. 
"What's changed about in-person career fairs in this economy is the fierce competition for top talent," Chan said. "Universities are stepping up and offering appealing advantages that make face-to-face opportunities worth the investment for both recruiters and students."
Wake Forest hosted its largest, in-person fall career fair in a decade. Chan said he sees the same trend among peer schools that are also experiencing large increases in on-campus recruiting.
With nearly two job openings available for every job seeker, the current shortage of workers in the United States has employers rushing to recruit, hire and retain talent.
Over 100 organizations with approximately 300 recruiters visited the University earlier this month. More than one thousand students attended the career fair – from first-year students exploring career options to students in master's level programs. Full-time and internship opportunities were represented in almost every job function from healthcare to sales, operations to finance, logistics to consulting, education to nonprofit, marketing to analytics, and information technology to law enforcement. 
"After two years of virtual events, you could feel the excitement from both employer representatives and students ready for face-to-face networking," said Director of Employer Relations Dana Hutchens. "We welcomed local and national organizations, some who have been long-time recruiting organizations and quite a few coming to us for the first time."
Targeted niche networking events outside of the main career fair offered organizations recruiting for financial services and consulting roles the chance to meet with smaller groups of students interested in those areas. Employers also reserved space at the University's recruiting center to hold office hours, host one-on-one chats and interview candidates.
In addition to in-person recruiting, organizations of all sizes have posted more than 30,000 jobs and internships in Wake Forest's Handshake system. The platform connects employers with students based on students' personalized skills, interests, preferences for location, work environment and a multitude of other differentiators. 
Hutchens noted that students in remote recruiting sessions tend to self-select into well-known, large, or brand name organizations – overlooking smaller, startup or unknown companies that can potentially offer more opportunities to develop a wider skill set.
"In-person recruiting gives those employers without household name recognition a chance to engage in more casual conversations that might spark student interest. The virtual recruiting environment doesn't provide for chance encounters that can open new and surprising possibilities for the career journey," said Hutchens. 
The desire for in-person recruiting indicates that organizations see value in coming to campus to showcase what they have to offer. Many send alumni recruiters who are cheerleaders and brand ambassadors. They make instant connections with students who see that other Demon Deacons have found their place at this organization.
"It's not unusual for an anthropology student to strike up a conversation with an anthropology graduate recruiting for a position neither might have seen as a job option. When that happens, students begin to better understand from a trusted resource how the skills they develop in academics apply in the real world."
Categories: Top Stories