Main Content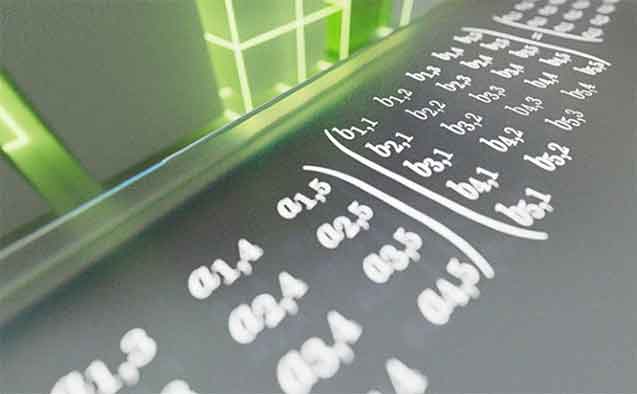 FEATURED NEWS
DeepMind AI invents faster algorithms to solve tough math puzzles
By Matthew Hutson | Nature
Researchers at DeepMind in London have shown that artificial intelligence (AI) can find shortcuts in a fundamental type of mathematical calculation, by turning the problem into a game. Computer science professor Grey Ballard sees potential for future human–computer collaborations. "I'm excited for theoretical researchers to start analyzing the new algorithms they've found to find clues for where to search for the next breakthrough." – 10/05/2022
NATIONAL & INTERNATIONAL
Wake Forest ranked among 50 best colleges by value for 2023
By C.J. Keene | CBS News
College research site Niche maintains a yearly ranking of best colleges. The site uses several criteria, including yearly net price (the average cost after financial aid), graduation rate, median earnings six years after graduation, student-faculty ratio and other factors. On top of value, Wake Forest received high marks from Niche in academics, diversity, campus, athletics, party scene, professors, student life and safety. – 10/08/2022
In Trump case, Texas creates a headache for Georgia prosecutors
By Danny Hakim, Richard Fausset | The New York Times
Law professor Ronald Wright, who studies the work of criminal prosecutors, said that the Texas court's decision, based on its interpretation of the special grand jury's purpose, appeared unusual. "I haven't heard anything about one state saying categorically, 'No we read your statute, that doesn't apply here, you can't get this witness,'" he said. – 10/08/2022
Real-life teachers make it clear how they feel about 'Abbott Elementary'
By Nikki Munoz | Looper
Communication professor Mary Dalton, who studies the representation of educators in media, said, "Janine Teagues is the first female teacher character in a comedy who has been portrayed in a positive light, and who is realistic — like a well-rounded person — in a very long time." – 10/09/2022
New study identifies mature forests on U.S. federal lands ripe for protection
By Justin Catanoso | South Africa Today
A new mapping study conducted by NGOs finds that older forests in the U.S. make up about 167 million acres, or 36%, of all forests in the contiguous 48 states. About a third of this, or roughly 58 million acres, are on federal lands. The rest are controlled by non-federal entities, including large amounts held by private owners. – 10/07/2022
Justin Catanoso's story originally appeared in Mongabay.
REGIONAL & TRADE
Breaking down the structure of anti-gunners' arguments
By Jennifer Sensiba | The Truth About Guns
Sociology professor David Yamane is known for his work on Gun Culture 2.0, or the shift in motivations behind gun ownership in the late 20th and early 21st centuries. In his latest video, The Standard Model of Explaining the Irrationality of Defensive Gun Ownership, he gives a six-point summary that encapsulates most anti-gun arguments today. – 10/08/2022
LOCAL
Triad in Focus
90.5 FM WSNC
Host Jim Steele talks with history professor Robert Hellyer about his book "Green with Milk and Sugar." – 10/10/2022
Wake Forest relay for cancer research: Hit the Bricks
WXII-TV (Winston Salem, NC)
Hit the Bricks is a day-long fundraiser in memory of Wake Forest football legend Brian Piccolo. He died at age 26 after being diagnosed with cancer. Students, faculty and staff race around the brick pathways on Hearn Plaza, competing to see which teams can run the most laps and raise the most money. This year's student director, senior Erin Byrd, said, "Participation and fundraising for this event can really move the needle on cancer research." – 10/05/2022
WGHP also covered the event.
Smith Reynolds Airport eyes state funding to fix neighbors' erosion issues
By John Deem | Winston-Salem Journal
Officials from Smith Reynolds Airport have initiated efforts to address severe erosion experienced by neighboring homeowners living along Brushy Fork Creek. Mass land-clearing can lead to unimpeded water runoff during heavy rainfall, explained engineering professor Courtney Di Vittorio, who specializes in water management. "And 250 acres is a big area," she added. – 10/09/2022
Wake Forest divinity school expands HIV initiative with focus on Black faith community
By Richard Craver | Winston-Salem Journal
The Wake Forest University School of Divinity recently announced the next initiative in its collaboration with biopharmeceutical company Gilead Sciences. The focus is on "Black Faith and HIV" involving the divinity school's Gilead Compass Initiative Faith Coordinating Center. In February, the divinity school received a $5 million grant from Gilead to help form the center, which at the time was the largest-ever grant to fight HIV and AIDS in the South. – 10/05/2022
Carolina Curious: What's the main role of the school board?
By Amy Diaz, Eileen Solange Rodriguez, Keri Brown | WFDD (Winston-Salem, NC)
Dani Parker Moore is the director of the Schools, Education and Society minor at Wake Forest, which is a program that looks at education policies and laws. She explains how local school boards fit into the wider education system. – 10/04/2022
Michael Schur, TV producer and creator of "The Good Place," to visit Wake Forest
Yes! Weekly
Michael Schur, the television writer and producer who created the show "The Good Place" and co-created "Parks and Recreation," will visit Wake Forest University Oct. 17. The 7:30 p.m. event, "How to be Perfect: An Evening with Michael Schur," is free and open to the public and will be held in Brendle Recital Hall inside Scales Fine Arts Center. – 10/07/2022
Teacher representation on TV in 'Abbott Elementary'
Greensboro News & Record
The ABC mockumentary "Abbott Elementary" centers on the experience of teachers at Willard R. Abbott Elementary. In this Q&A, communications professor Dalton discusses teachers on "Abbott Elementary" and puts them in context with other shows representing teachers in past decades. – 10/05/2022
Categories: Top Stories, Wake Forest in the News