Main Content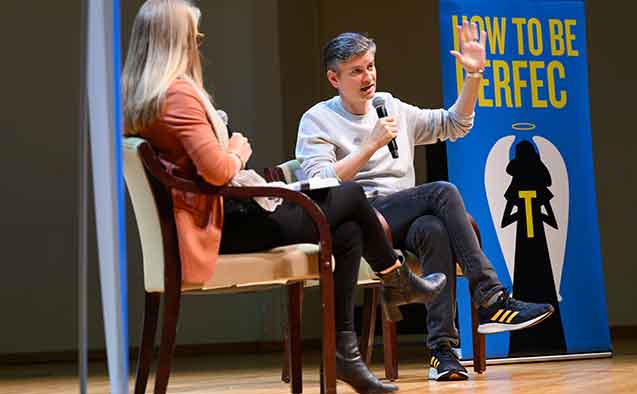 Michael Schur, television writer, producer and creator of the sitcom "The Good Place," visited Wake Forest to talk with students, sit in on a philosophy class and participate in an open-to-the-public discussion on character, ethics, his television shows and his new book, How to be Perfect: The Correct Answer to Every Moral Question. 
Schur's visit was presented by Wake Forest's Program for Leadership and Character.
For the evening event, about 600 people filled Brendle Hall where Schur shared stories about obsessive mouthwash swishing, a philosopher leaving his corpse to his friend and an incident with a bumper scratch gone viral. 
"Comedy is a great mechanism to teach people about boring or complicated things," Schur said.
"The Good Place," which explores ethics and philosophy – not generally considered funny academic studies – was nominated for 14 Prime Time Emmy awards including Outstanding Comedy Series. The show's four central characters have died and found themselves in "the bad place," because of poor decisions and actions during their lives. The group joins together in hopes of earning enough points through good moral behavior to move to "the good place." 
In developing storylines for the sitcom, Schur said he sorted through 2,000 years of ethical study and philosophical insights to explore questions about right and wrong and personal agency. He wrote to and visited with professors nationwide as he was learning about and reflecting on philosophies and philosophers.
During his day at Wake Forest, Schur joined philosophy professor Eunice Hu's small seminar class. The group talked about Confucius and Aristotle and asked questions about the creation of "The Good Place," "The Office" and "Parks and Recreation." They also explored what it means to live an ethical life.
"The greatest thinkers who ever lived tried to write guidelines for good and bad behavior that will point us in the right direction, but there are no universal consistencies to the answers," Schur told the students. "The ultimate position that 'The Good Place' took is that if we can become better, we will become better through our necessary relationships with other people."
"What matters isn't if people are good or bad. What matters is, if they're trying to be better today than they were yesterday." Michael, "The Good Place"
Schur described the essence of the shows he's written as "Other people matter." For junior psychology major and Leadership and Character Ambassador Reese Fortier, this resonated. "Reminding us that other people matter is just really, really poignant. I think it's something that we can all take away and use in our everyday lives to be better people."
Leadership and Character's Director of Programming Ann Phelps moderated the discussion with Schur. Co-sponsors include Film and Media Studies, the School of Divinity, the Department of Philosophy, and Wake The Arts.
Listen to the entire conversation with Michael Schur at Wake Forest University here.
Categories: Top Stories
Wake Forest in the News
Wake Forest regularly appears in media outlets around the world.