Main Content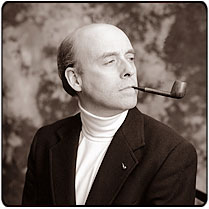 Dan Locklair, Wake Forest University's composer-in-residence and professor of music, has been awarded a 2003-2004 ASCAP Award by the American Society of Composers, Authors and Publishers.
Reflecting their ongoing commitment to assist and encourage composers, the ASCAP grant awards are based on the unique prestige value of each writer's catalog of original compositions and on recent performances in areas not surveyed by the society. Composers were judged by an independent panel of professionals.
Locklair's music has won numerous other awards, including consecutive ASCAP awards since 1981. A prolific composer, Locklair's catalog includes symphonic works; a ballet; an opera; and solo, chamber, vocal and choral compositions.
At Wake Forest since 1982, Locklair earned a doctorate from Eastman School of Music.
Established in 1914, ASCAP is a performing rights membership association of more than 160,000 composers, songwriters, lyricists and music publishers that represents its member by licensing and distributing royalties for the non-dramatic public performance of the copyrighted works.
Categories: Arts & Culture, Faculty, University Announcement
Subscribe
Sign up for weekly news highlights.
Subscribe