Main Content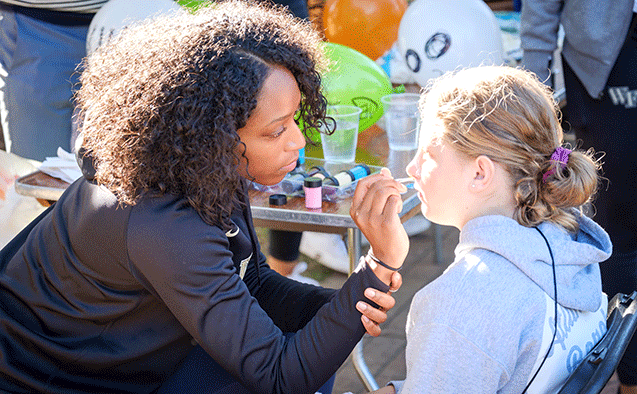 Project Pumpkin, one of Wake Forest University's much-loved traditions, will take place on Tuesday Oct. 25. From 3 to 6 p.m.
The student-led Halloween-themed event will bring hundreds of children from participating local schools and after-school organizations to Hearn Plaza on the Reynolda Campus for trick-or-treating, and fun-filled activities and games at multiple booths.  
Project Pumpkin has brought smiles and lasting memories to children in the Winston-Salem area for more than three decades.  It provides a safe environment for kids to enjoy Halloween festivities.
This year's theme is Storybooks. Volunteers will be dressed in various storybook character costumes. The goal is to get kids excited about reading.
"It highlights the Pro Humanitate of Wake Forest and our community, tradition and service," said Ashley Westerfield, a junior at Wake Forest University and one of the head pumpkins for the event. "It also ties into support of Freedom School. It's exciting to be part of such a historic event." 
Project Pumpkin raises money to benefit the WFU Freedom School. Freedom School is a free, literacy-based  summer enrichment program on the Wake Forest campus for children in K-8th grades in Winston-Salem.
It all began in 1989, when a Wake Forest freshman named Libby Bell started a Halloween festival on campus for local children.
More than 300 Wake Forest University students will participate in the event serving in various roles.
"I've learned a lot about event planning and working with community groups," said Alyssa Goldstein, student director. "This will be my first outside on campus Pumpkin Project experience, although I've been involved since last year. There's a lot of excitement among students because it was scaled back in 2020 due to the pandemic and last year, we held the event off campus."
There's a new twist this year. Organizers are taking a hybrid approach.
In addition to the on-campus event, Wake Forest University volunteers are hosting Fall Festivals at five recreation centers in the community on October 27 from 6 to 8 p.m. Little Creek, Polo Park, Martin Luther King Jr., Sedge Garden and William R. Anderson.
"This year is similar to what we did in 2021, but this is much larger in scale," says Rebekah Lassiter, Off Campus Head Pumpkin. "Depending on the location, there will be different games, face painting, one site even has a magic show, just various activities related around fall and Halloween."
"These satellite locations allow us to meet kids where they are in the community and for them to have a chance to experience a college setting on campus," said Cazandra Rebollar, assistant director of civic engagement at Wake Forest University.
Wake Forest University is co-hosting the community recreation center fall festivals. The events are free and open to the public. 
Note: Media representatives covering Project Pumpkin must check in at the escort and media table in front of Wait Chapel to receive a press kit and photography guidelines. The fall festival locations on Oct. 27 are co-hosted with the Winston Salem recreation centers. Project Pumpkin leadership team members will be available for interviews at both locations.
Categories: Campus Life, Community, Events, Top Stories