Main Content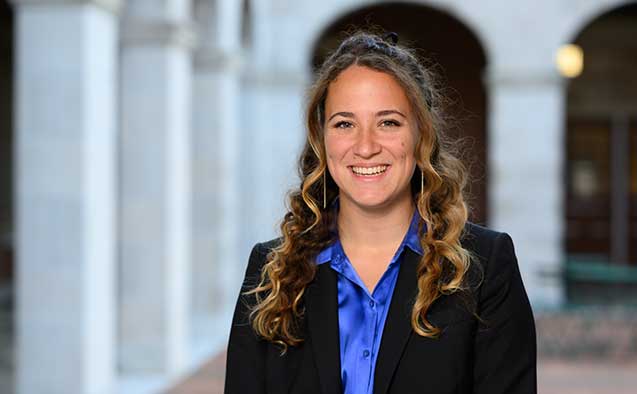 FEATURED NEWS
Wake Forest senior awarded the Rhodes Scholarship
By Michael Hewlett | Winston-Salem Journal
Philosophy and Piano Performance double major and refugee advocate Alice Hauser has been awarded a Rhodes Scholarship to study at England's Oxford University beginning in the fall of 2023. She was among 32 Americans chosen by the Rhodes Trust who were selected on Nov. 12 from among 840 candidates endorsed by 244 different colleges. She is the 15th Wake Forest Rhodes Scholar since 1986. Two other Wake Forest students and fellow scholars, Tal Feldman and Ashley Peake, were also named finalists for the Rhodes. – 11/13/2022
NATIONAL & INTERNATIONAL
Is redemption redeeming?
By Eranda Jayawickreme | Psychology Today
How can you move past adversity and understand what comes next? The answer to that question is not as obvious or simplistic as you may think. We must all grapple with this question at some point in our lives, given that we cannot be completely free of adversity, failure, and suffering. Thinkers in religion and philosophy have also pondered this question for thousands of years. – 11/08/2022
Democracy 2022
Fox News Channel (National)
Politics professor John Dinan was interviewed on the 2022 midterm elections. His research focuses on state politics and state constitutions. He is the author of several books, including State Constitutional Politics: Governing by Amendment in the American States and The American State Constitutional Tradition, as well as numerous articles on state and federal politics. – 11/13/2022
The UN ruled that climate action is needed to protect human rights
By Sari Goldberg | Glimpse from the Globe
The decision now holds governments accountable for protecting their citizens from foreseeable consequences of climate change, according to law professor John Knox, an independent expert on human rights and the environment. – 11/11/2022
Turkeypalooza to prepare hundreds of meals for those in need
Mirage News
Wake Forest University students and staff are getting ready for an annual holiday tradition that gives back to the community. Turkeypalooza will take place from Sunday, Nov. 13 – Saturday, Nov. 19. This student-led event prepares 600 Thanksgiving meals for residents in Forsyth County facing food insecurity. The event coincides with National Hunger and Homelessness Week. – 11/10/2022
¿Cuánto ha deforestado la minería ilegal en los últimos años?
RPP (Peru)
La minería ilegal viene afectando al país de forma continua en diversos aspectos: contamina los ríos, afecta la salud de las comunidades, no paga impuestos y deforesta los bosques que han tardado miles de años en convertirse en los pulmones del mundo. El impacto negativo que ha generado en el medio ambiente es innegable y se va agravando a medida que los grupos ilegales crecen. – 11/08/2022
Nick Schifrin joins The Local Vibe ahead of WFU's Face to Face Speaker Forum
Yahoo News
Nick Schifrin, the foreign affairs and defense correspondent for PBS NewsHour, based in Washington, D.C. joins The Local Vibe ahead of the the upcoming Face to Face Speaker Forum on Nov. 15. – 11/09/2022
LOCAL
Automated license-plate readers may be coming to Winston-Salem
By John Hinton | Winston-Salem Journal
Automated license-plate readers are being used by the Forsyth County Sheriff's Office and police departments in Kernersville, Greensboro, Charlotte, Raleigh and Mooresville as well as the Winston-Salem State University and Wake Forest University police departments, Winston-Salem police said. – 11/11/2022
Korean War veteran recognized for his service, awarded Purple Heart after decades-long misunderstanding
By Daryl Matthews | WGHP-TV (High Point, NC)
After 70 years, 89-year-old James Brown will finally get the recognition he deserves after fighting in the Korean War. On Friday, the Veterans Legal Clinic at Wake Forest University School of Law announced that veteran James Brown will be respectfully honored with the Purple Heart medal. After a year of searching for files and going over his case, Brown's dishonorable discharge was overturned. – 11/11/2022
WXII, WFMY, and Spectrum News also covered the story.
Election integrity groups, poll watchers, and the shrinking of American democracy
By David Ford | WFDD-FM (Winston-Salem, NC)
From Reconstruction to the civil rights movement and beyond, efforts to expand the franchise — the right to vote — have been followed by electoral strategies designed to limit it. Humanities professor Corey Walker spoke with WFDD's David Ford about the various forms that voter suppression efforts have taken over generations. – 11/07/2022
WFU's 'Turkeypalooza' prepares 600 Thanksgiving meals for those in need
WFMY-TV (Greensboro, NC)
Wake Forest University students and staff are preparing for an annual holiday tradition that gives back to the community, Turkeypalooza. It starts Sunday through Saturday, November 19. – 11/11/2022
The Innovation Quarter: Where it's been and where it's going
By Justin Berger | WXLV-TV (Winston Salem, NC)
In the early 2000s, the Innovation Quarter began as a concept to relocate the research wing of Wake Forest University Health Sciences. Developers included the footprint of Winston-Salem's tobacco industry into the makeup of the project — after all several of these buildings are old Reynolds Tobacco Company warehouses. – 11/09/2022
Announcements
Winston-Salem Journal
Internationally renowned author, reporter and columnist Thomas Friedman will join Wake Forest University's Face to Face Speaker Forum for an evening of conversation with PBS NewsHour's Nick Schifrin at 7:30 p.m. Tuesday, Nov. 15, in Wait Chapel. – 11/12/2022
Categories: Top Stories, Wake Forest in the News
Wake Forest in the News
Wake Forest regularly appears in media outlets around the world.