Main Content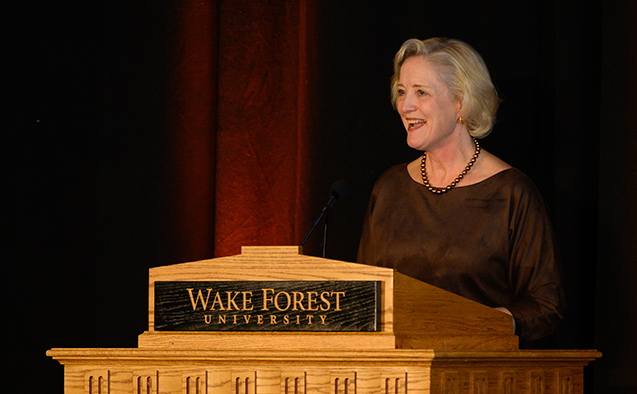 Wake Forest University President Susan R. Wente presented her second annual presidential address to the University community at 4 p.m. on Nov. 17 in the Sutton Center.
During her address, Wente focused on two critically important questions: Who we are now, and who will we become for future generations?
"Our strategy for the future must be built on the foundation of what we have already done," Wente said. 
She provided an update on the Strategic Framework process and the work the Core Planning Team has been doing to develop themes based on the collective input of the Wake Forest community.
The team, led by Provost Michele Gillespie, includes three vice chairs: Amanda Griffith, associate professor and chair of economics; John Knox, Henry C. Lauerman Professor of International Law; and Corey D. B. Walker, Wake Forest Professor of Humanities, director of African American studies and interim dean of the Divinity School. 
"It has been an exhilarating experience to hear the passion of so many in our community about Wake Forest University," said Walker. "We are excited about continuing this important work as we position this historic institution for its third century and beyond."
One outcome of the Core Planning Team's work was the articulation of a clear, overarching, distinctive statement about why Wake Forest is driven to fulfill its academic commitments. Wente endorsed the proposed "unique value proposition" formed by the Core Planning Team:  Wake Foresters will embody Pro Humanitate at home and in the world. 
Wente shared the three thematic goals developed by the Core Planning Team. She described them as articulating "the what" beneath "the why".
We will be a lifelong learning community that calls all to develop their full potential to contribute in a diverse and complex world.

We will foster a community of inquiry through research, scholarship, and creative work that transcends boundaries to address the challenges facing humanity and our world. 

We will build meaningful, mutual partnerships to honor our commitment to the wellbeing of our local, regional and global communities.
These themes are not individually distinctive or unique to Wake Forest. "What I heard makes us distinctive," Wente explained, "is the unique layering of who we are with our strong foundation of core commitments and values."
The next step in the Strategic Framework process will involve the formation of thematic working groups. The groups will explore how to put the institutional commitments and values associated with each theme into action. Over the next few months, the thematic working groups will evaluate current University practices and identify best practices across higher education. By late spring, the working groups will identify what success will look like if we accomplish each goal, explore how to achieve these goals, and identify the choices to be made among current activities and future initiatives in each thematic goal area.
Wente said her vision is that the strategic framework will ensure "we will be a catalyst for good in society."
She aims for Wake Forest to be recognized as a national model for:
graduating leaders with integrity and courage across disciplines and professions; 

innovation in curricular, co-curricular, experiential learning, and personal and professional development; 

excellence in defined scholarship and research areas across our academic programs and partnerships

accountability in inclusive excellence;

entrepreneurial partnerships that advance our mission
"Together, we will build a strong foundation for our third century and meet the needs of our ever-changing society," Wente said.
View the speech below, or read or listen to the full speech here.
Categories: University Announcement