Main Content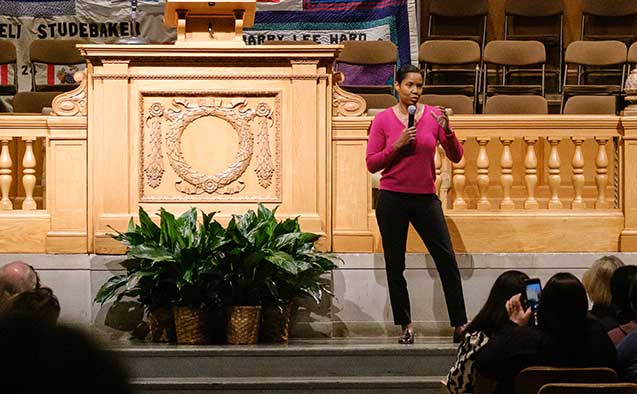 FEATURED NEWS
WFU holds 22nd Annual MLK celebration featuring U.S. soccer legend as keynote
WXII
Briana Scurry has a story to tell: there's her trailblazing career on the soccer field, her role in advocating for changes in women's sports including equal pay for female athletes and a new book and documentary about her life. Scurry, the first Black, openly gay starting goalkeeper on the U.S. Women's National Team that won the 1999 Women's World Cup, served as the keynote speaker for a joint Wake Forest/Winston-Salem State MLK Day Celebration. – 1/16/2023
The Winston-Salem Journal, Yes! Weekly, WGHP and Spectrum News also covered the event.
Weaver fire sparks $1 million WFU environmental justice grant
By John Deem | Winston-Salem Journal
The January 2022 fire at the Winston Weaver fertilizer plant was a "wake-up call" that inspired a $1 million Melon Foundation grant to Wake Forest University for the creation of a program aimed at advancing environmental justice locally. "This is an opportunity to develop a cross-institutional program that leverages the strength of our liberal arts tradition and models new ways to engage the humanities and sciences to address the pressing challenges facing our society and world," said humanities professor Corey D.B. Walker. – 1/15/2023
NATIONAL & INTERNATIONAL
Illegal mining has muddied tropical rivers worldwide
By Paul Voosen | Science Magazine
A comprehensive satellite survey spanning four decades shows river mining has surged over the past 20 years and today affects 173 large rivers in 49 countries. "It's completely flown under the radar," said Miles Silman, a forest ecologist at Wake Forest University and coauthor of the study. "The pervasiveness was really shocking to me. It's just nuts." – 1/11/2023
HIV & Faith Ambassador Initiative champions the faith and justice work of Martin Luther King Jr.
POZ
The Gilead COMPASS Initiative® Faith Coordinating Center at Wake Forest University School of Divinity in partnership with Old North State Medical Society announces the official launch of the "HIV and Faith Ambassadors" initiative. Similar to the justice work forged by Dr. Martin Luther King Jr. and others, the program believes that faith leaders have a critical role to play alongside health providers in the effort to end the HIV epidemic. – 1/16/2023
5 science-backed tips to protect yourself from the office know-it-all
By Nick Hobson | Inc.
It's usually that one work colleague who comes into conversations with their own anecdotes – ones that somehow outdo yours in every way possible. In a recent study that looked into the antecedents of b*llsh*tting, psychology professor John Petrocelli and team ran a series of experiments that examined the idea of a person having i) too little, ii) adequate, or iii) too much topic knowledge, and the extent to which they b*llsh*tted. – 1/11/2023
WFU Secrest Artists Series presents pianist Emanuel Ax
Mirage News
The Wake Forest University Secrest Artists Series will present world-renowned pianist Emanuel Ax on Thursday, Jan. 19 at 7:30 p.m. in Wait Chapel. Ax will perform a solo recital of works by Schubert and Liszt. At 6:40 p.m. music professor Larry Weng will lead a pre-concert discussion of the music. The talk will take place in the Wait Chapel balcony room and seating is limited. – 1/16/2023
Demand for online education is growing. Are providers ready?
Times.KY
Growing competition in online education providers may need to take bold action. Five strategic moves could help them compete and grow while meeting the needs of learners. Wake Forest is featured for its revitalized approach to career services and customized exposure to careers early in the student journey by using profiles on Handshake to connect students with organizations and companies based on their interests and qualifications. – 1/14/2023
REGIONAL & TRADE
Wake Forest awarded $1M grant for project focusing on environmental justice
By Neal Charnoff | WFDD-FM (Winston-Salem, NC)
Wake Forest University has been awarded a $1 million grant for a project focusing on environmental justice. The grant from the Mellon Foundation will support the creation of a model program for teaching issues related to climate change and environmental justice. The three-year effort will be led by Wake Forest Professor of Humanities Corey D.B. Walker. – 1/13/2023
Legislature convenes for long session
By Paul Johnson | High Point Enterprise
Roy Cooper and Republican leaders of the General Assembly will try to hash out a 2023-24 fiscal year budget by July 1, the start of the new fiscal year, said politics professor John Dinan. The state's current spending plan totals $26 billion. – 1/11/2023
LOCAL
The day the Rev. Martin Luther King Jr. came to Wake Forest University
By Melissa Leonard Hall, Steve Lesher | Winston-Salem Journal
The Winston-Salem Journal reprinted a story that originally appeared on Oct. 12, 1962, the day after the Rev. Martin Luther King Jr. spoke at what was then Wake Forest College. The speech is believed to be King's first in Winston-Salem. Two years later, the Civil Rights leader spoke at Goler Metropolitan Church, which erected a marker commemorating King's visit there. – 1/16/2023
Lessons may emerge from pain of family slaying
By Paul Johnson | High Point Enterprise
The strongest predictor of a murder-suicide that's family-based is a previous record of domestic violence, said Nathaniel Ivers, counseling professor and department chair. "In most cases where a murder-suicide occurs, it's a man killing his wife, then killing children if they are involved, then killing himself." In an effort to try to prevent murder-suicides, communities should provide resources to support healthy family development and offer opportunities for family counseling. – 1/13/2023
Wake Forest University hosts five panels of the AIDS Memorial Quilt
By Victoria Lucas | WXII-TV (Winston Salem, NC)
The Wake Forest University LGBTQ + Center and the National AIDS Memorial are partnering together to bring five panels of the AIDS Memorial Quilt to Winston-Salem. It's part of the Dr. Martin Luther King Day celebration in collaboration with Winston-Salem State University. The panels will be on display at Wake Forest in the Benson Center Rotunda (3rd-floor entryway) from Jan. 16 – 20. – 1/16/2023
Spectrum News and WGHP also shared this news.
Children's MLK Read-In event at Wake Forest University to promote activism and literacy
By Amy Diaz | WFDD-FM (Winston-Salem, NC)
Wake Forest University is hosting its 14th annual Read-In Day on Jan. 21 to celebrate Dr. Martin Luther King Jr.'s legacy and promote literacy. The program is open to elementary school students in Winston-Salem/Forsyth County Schools. Participants will visit a variety of activity stations to learn about civil rights leaders, music, art, and reading. – 1/15/2023
Supermarket chain based in Winston-Salem doubles presence in Charlotte metro
By Richard Craver | Winston-Salem Journal
Business professor and retail expert Roger Beahm said expansion may be an effective way for Lowes Foods to fend off expanding rivals such as Publix and Wegmans in the Triangle. "Lowes Foods is now much more capable of holding its own against these key competitors than it would have been 10 years ago. The announcement of these new stores demonstrates the company's recognition that many shoppers again prefer getting into stores." – 1/15/2023
Categories: Top Stories, Wake Forest in the News
Wake Forest in the News
Wake Forest regularly appears in media outlets around the world.