Main Content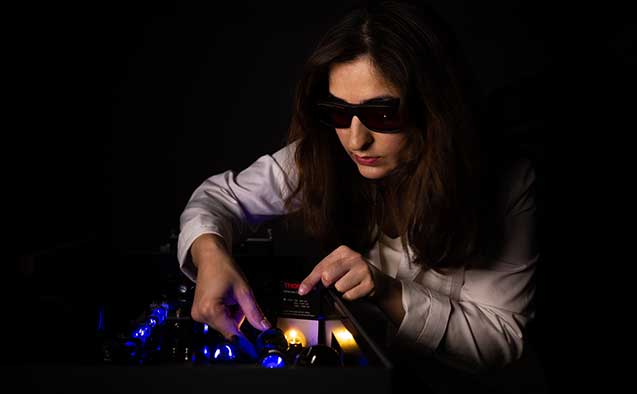 For Elham Ghadiri, developing new laser techniques to discover and improve solar energy conversion devices that could help mitigate climate change is her passion. 
She teaches inorganic chemistry at Wake Forest University and recently began a new course that focuses on Nanochemistry in Energy and Medicine.
On a weekday afternoon, Ghadiri is busy inside the laser lab in Salem Hall. This is where she's creating cutting-edge laser tools to study ultrafast photochemical and photophysical reactions in sustainable materials.
"I am excited about establishing the first ultrafast laser lab in the Department of Chemistry at Wake and for its future. It was all done during the pandemic, despite the challenges."   
These complex photochemical reactions are initiated by light and are hard for scientists to visualize because they occur in what's called femtosecond time (a millionth of billionth of a second). But thanks to funding from the National Science Foundation, Ghadiri will be able to find out more.
She has received a 2023 NSF Early CAREER Award. The grant for $650,000 will be distributed over five years.
"With this research we are establishing state of the art ultrafast laser spectroscopy and ultrafast laser microscopy that allows us to visualize the photochemical reactions in real time, in a short time scale of femtosecond," she said. "And we can use these tools for ultra-high spatial resolution – we are talking about a few hundred nanometers, which is about a few hundredths of a hair thickness." 
"The primary focus of this award is to use our novel laser techniques to study photochemical reactions in sustainable semiconductors that are made in our lab, which makes them promising candidates for sustainable energy conversion applications. " Elham Ghadiri, Assistant Professor of Chemistry
Wake Forest undergraduate and graduate students are heavily involved in this research. They will also work with Ghadiri on related educational outreach programs in the community.
"What's also exciting is the educational component of the NSF award that will allow mentoring and hands-on opportunities for Wake Forest students," said Ghadiri. "That will extend into the community. We will also be conducting educational workshops and activities for high school students and adults. In one, we will create solar cell devices that are colorful, based on natural pigments or earth abundant materials that mimics the process of natural photosynthesis and can be integrated with everyday life."
This work is significant because ultrafast photochemical processes are at the heart of many environmental energy conversion systems and understanding how they work and how to best apply them could lead to more advanced clean energy technologies.
Ghadiri said her research could also have an impact on other science-related fields.
"In broad terms, the advancement of microscopy tools that push the limits of conventional time-resolved spectroscopy is a potential broader impact of the work. The technique can allow us to study a wide variety of systems, from other materials to biomedical devices and systems for biomedical and medicinal applications," she said.
Ghadiri hopes her research will encourage more women to become laser scientists and study STEM-related fields.
"Winning the peer-reviewed CAREER award validates professor Ghadiri's hard-work and creativity and paints a bright teaching and research future for her. She has developed a special system and only a few of these types of instruments exist in the world." Bruce King, Kitchen Chair and Professor of Chemistry
Ghadiri is also a member of the Center for Functional Materials at WFU.
"Her work is significant for the development of optoelectronic and bioinspired materials and will provide an excellent platform for collaborations across CFM both in research and education," said Oana D. Jurchescu, professor of physics, who is one of the founding members of the Center.
Ghadiri said she's grateful for the support from her colleagues in the Chemistry department, the CFM Center and the Wake Forest community.
This is the second time within the past year that Wake Forest University professors have won the prestigious NSF CAREER Awards.
In April, the University announced three faculty members received the honor: chemistry professor John Lukesh, math and statistics Professor Abbey Bourdon and engineering professor Erin Henslee.
Categories: Top Stories