Main Content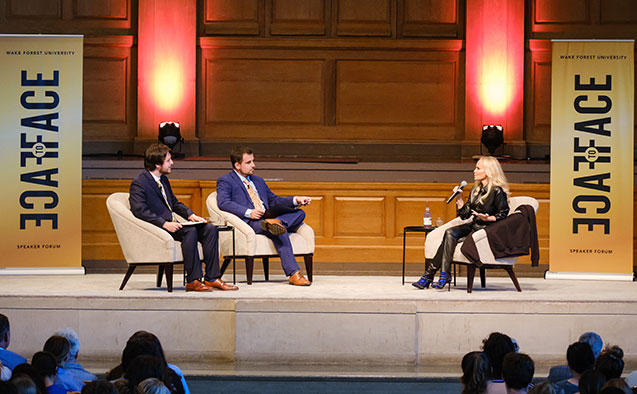 What is the acting process like for Emmy and Tony Award-winning actress and singer Kristin Chenoweth? "I get my character when I get the shoes the character is going to wear," she said.
At the Face to Face Speaker Forum student-led event, Leadership and Character Program scholars and seniors Ian Davis-Huie, an elementary education major, and mathematical statistics major Josh Knight led a conversation with Chenoweth in Wait Chapel.
"I do all the homework before the first day of rehearsal, then I can really play the part." Chenoweth said. Her advice for acting: "Get all your ingredients to make a soup before you cook it." 
Chenoweth's career spans film, television, voiceover and stage. She was nominated for a Tony Award for "Wicked" and won a Tony for her performance as Sally Brown in the musical "You're A Good Man, Charlie Brown." In television, she earned an Emmy Award for her role on "Pushing Up Daisies" and was nominated for two Emmy Awards and a People's Choice Award for her role on "Glee."
When asked about how she chooses the parts she plays, Chenoweth said she chooses roles "where I see myself as the only person who can play that part."
" Look for the joy in life. Follow your dreams. Follow your passion. Do that thing." Kristin Chenoweth
An author as well as an actor, her book, "A Little Bit Wicked: Life, Love, and Faith in Stages," describes her life and career, including her adoption, her turn in Wicked and her time in Hollywood. During the pandemic, she wrote, "I'm No Philosopher, but I Got Thoughts" and "My Moment: 106 Women on Fighting for Themselves."
"I asked 106 women when was the first time they fought for themselves," said Chenoweth. "But, it's a great question for all of us. 'How did you fight for yourself, and how did it change you?'"
Through the Kristin Chenoweth Arts & Education Fund, Chenoweth raises funds to cultivate artistic expression for children. "I want to leave the world a better place than when I found it," she said.
At the keynote conversation with NPR film critic Bob Mondello, Chenoweth talked about her faith, her favorite roles, and her struggles with anxiety and depression. She also shared about both the good and not-so-good choices she made in her career and what she learned from both.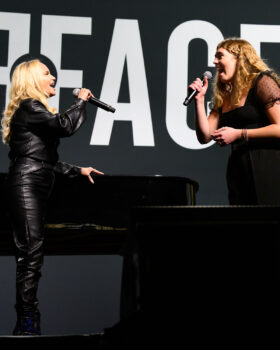 At the end of the evening event, Chenoweth told the audience that when she visits colleges she likes to surprise a student – one that she hasn't met ahead of time – with an invitation to sing with her.
Sophomore Ellie Howell, who is studying history and theatre, joined Chenoweth on stage to sing Elphaba's part in the song "For Good" from the musical "Wicked."
The two received a standing ovation.
The Face to Face Speaker Forum announced the lineup for its third season after the performance.
The community-facing forum brings world-renowned, influential voices to Winston-Salem to discuss topics in a variety of areas including politics, arts and culture, business and social justice. 
This Face to Face Speaker Forum with Kristin Chenoweth was presented by Wells Fargo Wealth & Investment Management. A complete list of Face to Face Speaker Forum sponsors is available here.
Categories: Top Stories
Wake Forest in the News
Wake Forest regularly appears in media outlets around the world.