Main Content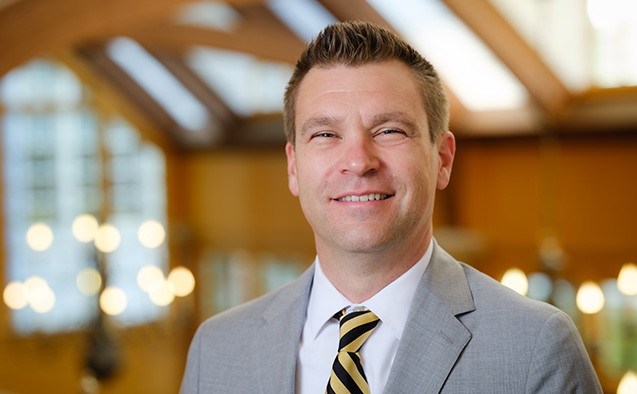 FEATURED NEWS
'A better front door': Wake Forest to offer early-admission option for first-gen students
By Eric Hoover | The Chronicle of Higher Education
"Our first-gen students are the ones that don't tend to take advantage of early decision nearly to the same extent as other students…despite the fact that we have some fantastic programs for those students once they're here, including Magnolia Scholars, which provides scholarship and need-based-aid support, as well as several programmatic opportunities associated with it, and also a program called First in th Forest. I hope with Early Action, we send a strong message to first-generation students that they have a home here at Wake Forest, and that we're interested in the insights that they bring to campus," said Vice President for Enrollment Eric Maguire in this Q&A. – 8/03/2023
NATIONAL & INTERNATIONAL
Varied definitions of 'first generation' confuse students
By Jessica Blake | Inside Higher Ed
Vice President for Enrollment Eric Maguire, who was the first in his family to graduate from college, said University administrators are "focused on continually improving opportunity and accessibility and this is one important way to do that." A new "Early Action plan" is scheduled to launch this fall and lets first-generation applicants "know that the University values their experience and wants to create more opportunity for them," said Maguire. – 8/03/2023
The Barbie-Taylor-Beyoncé summer offers a release of pandemic emotions
By Justine McDaniel | The Washington Post
Big events offer an outlet for a still-pent-up desire to connect and for a renewed motivation to engage with life, both things psychologists have seen among Americans coming out of the pandemic. "People draw strength from being around other people," said psychology professor Christian Waugh. "The very fact that you're there … is a great way to just feel like you belong and your life is meaningful and everything is going to be okay." – 8/03/2023
Waugh also talked with CNN live about "What's behind the hype?" with the return to movies and concerts.
America's response to the Global South
By James Jay Carafano | GIS Reports
In another major challenge for Washington, several major powers have significant interest and activity in the Global South. None of them directly align with the U.S. "China is identifying itself as a member of the Global South family," argues politics and international affairs professor Lina Benabdallah. "This makes them more appealing to countries in the Global South, as well as a model for countries aspiring to be great nations." – 8/03/2023
If Issue 1 passes, how will Ohio compare to other states?
By Avery Kreemer | Dayton Daily News
Issue 1, if approved by Ohio voters on Election Day Tuesday, would give Ohio one of the most difficult citizen-initiated amendment processes among the 18 states where citizens have direct control over the constitution, according to politics professor John Dinan, an expert in state constitutions. "Ohio's amendment process would be among the more difficult processes to use, in that the 60% ratification threshold would be among the most difficult and every county geographic signature distribution requirement would be among the most difficult," he said. – 8/04/2023
Texas backlash to Obama fueled conservative drive to reinterpret U.S. Constitution
By Eleanor Klibanoff | Texas Tribune
"It's a place where, if you have ideas about the size, nature and scope of the administrative state … It's really an opportunity for those ideas to be tested," said Enrique Armijo, a law professor at Wake Forest who clerked at the same time as Oldham. "I myself got more sympathetic to the idea that there is a reason these agencies exist and there's a reason Congress created them." – 7/31/2023
REGIONAL & TRADE
WFU launches first-of-its-kind admissions initiative in wake of affirmative action ruling
By Lillian Johnson | Triad Business Journal
"The real advantage of this plan is that first-generation students who want to come to Wake Forest have a new option to apply early action and know that the university values their experience and wants to create more opportunity for them," said Eric Maguire, vice president for enrollment. Wake Forest's early action plan for first-generation students will allow those applicants to receive an admissions decision by January 15, the school said, while retaining the ability to consider other admissions and financial aid offers. – 8/03/2023
Wake Forest pairs high schoolers with mentors to conduct scientific research
By Amy Diaz | WFDD-FM (Winston-Salem, NC)
Nineteen students were selected to participate in Wake Forest's LEAP program, which stands for Lab Experiences: Academics and Professions. It's a six-week paid summer internship that pairs high school students with mentors from the University. Alana James, the director of Wake Downtown, said the interns came a long way over the course of the program. "They demonstrated a curiosity, eagerness, and most importantly, a willingness to step outside of their comfort zone, and do something that they've never done before, and potentially something that no one in their lives had ever done before." – 7/31/2023
Florence Nightingale Day encourages students to pursue statistics, data science
Amstat News
Florence Nightingale pioneered data visualization and was the founder of modern nursing. As the creator of the pie chart, used universally in data visualization to this day, she used data in a novel and effective way to provide better care for wounded soldiers in the Crimean War and improve public health more broadly. Pre-college students worldwide attended Florence Nightingale Day events, including at Wake Forest University. – 8/01/2023
How retainers can lead to ethics issues
ABA Journal
Lawyers must tread carefully when they take a client's money, particularly when labeling funds as "nonrefundable" and assuming they have earned the entirety of that fee even if the attorney-client relationship ends early. The enduring impact of the opinion, according to law professor Ellen Murphy, is that it reiterates the difference between earned and unearned fees. "Fundamentally, there are just two types of fees: earned and unearned." – 8/01/2023
LOCAL
Life in the fast-food lane: Cook Out gears up for even more NASCAR branding
By Richard Craver | Winston-Salem Journal
Sports economist Todd McFall said Cook Out could be following the path of fast-food chains Shake Shack and Five Guys in expanding beyond their core markets into a potential national presence. "Cook Out likely views those companies' successes as a path forward.…Thousands of people travel to the Carolinas every year, so finding ways to make more familiar the Cook Out name to visitors can only help restaurants located in the traditional Cook Out strongholds," he said. – 8/04/2023
After landmark ruling, area universities concerned about maintaining diversity
By John Hinton | Greensboro News & Record
Junior Luke Tewalt said his school will be deprived of talented students in the wake of the U.S. Supreme Court's ruling striking down the use of affirmative action in college admissions. "I think what happens is Wake loses out on a lot of different experiences and cultures and backgrounds." Wake Forest is beginning an initiative to further lower barriers to undergraduate admission for first-generation college students. – 8/06/2023
Political leaders and city residents have mixed views about the latest indictment against former President Donald Trump
By John Hinton | Winston-Salem Journal
Politics professor John Dinan said that the third criminal case against Trump poses questions about his presidential candidacy. "Focusing on the political dimension of this indictment and the other indictments and possible additional indictments of Donald Trump, the question is whether they help or hurt Trump in his bid to win the Republican nomination and then the general election," he said. – 8/03/2023
WAKE FOREST NEWS
WFU deepens commitment to first-generation students with admissions initiative
By Cheryl Walker | Wake Forest News
Wake Forest is launching an initiative to further lower barriers to undergraduate admission for first-generation college students. The University will offer an Early Action option specifically for first-generation students to provide an additional pathway of opportunity. "Great universities like Wake Forest are called to be catalysts for good in society," said President Susan R. Wente. "This means lowering barriers to accessing the extraordinary educational opportunities we offer here."  – 8/03/2023
Categories: Top Stories, Wake Forest in the News
Wake Forest in the News
Wake Forest regularly appears in media outlets around the world.