Main Content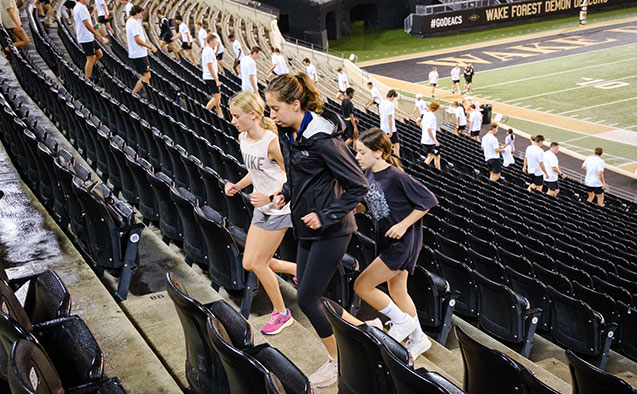 Wake Forest ROTC 'No Fear' Battalion is sponsoring its annual "Climb to Remember" in remembrance of the 2,977 victims of the September 11, 2001 terrorist attacks. The event will be held on Thursday, Sept. 7 from 6 to 8 p.m. at Wake Forest's Allegacy Stadium on Deacon Blvd. in Winston-Salem.
Twenty-two years ago, two planes struck the Twin Towers of the World Trade Center, one plane crashed into the Pentagon and a fourth plane crashed onto a field outside of Shanksville, Pennsylvania. The attacks killed 2,977 people from 93 nations. Participants climb one stair for each life lost.
"Many in and around the Wake Forest community were affected by the 9/11 terrorist attacks. We are excited to see the strength and unity of the Winston-Salem community as we honor the memory of those who lost their lives," said senior cadet and politics and international affairs major CJ Bartolozzi.
Participants can choose to run or walk the stairs in the stadium. Each section is clearly marked, and water stations are available. No registration is required.
Categories: Top Stories
Wake Forest in the News
Wake Forest regularly appears in media outlets around the world.