Main Content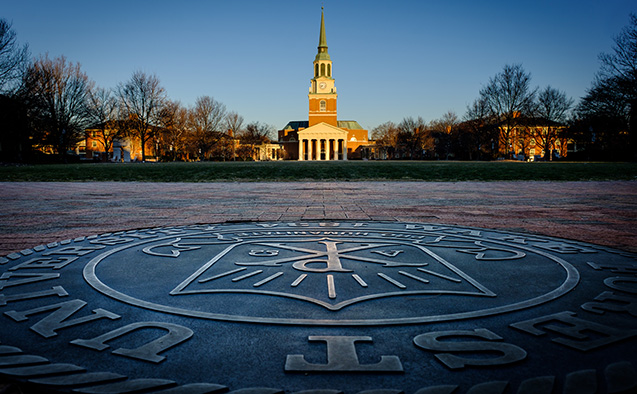 In its new 2023-24 assessment of national universities, U.S. News and World Report changed 17 of the 19 indicators used to calculate its rankings of institutions in this category. Wake Forest University ranks 47th among 435 universities.
"Wake Forest remains deeply committed to delivering a transformational education experience for our students," said Wake Forest University President Susan R. Wente. "Hallmarks of the Wake Forest experience include small classes, personal attention and mentoring from professors who are top scholars and experts in their fields. It is unfortunate that this year's methodology no longer rewards institutions for some of the elements of the Wake Forest experience that we value most."
Among other changes, the new ranking methodology removed consideration of small class size and teaching by professors with a terminal degree — long-standing institutional priorities valued by Wake Forest students, faculty and alumni. The positive impact of these commitments is fully reflected in 98% of Wake Forest graduates being employed or enrolled in graduate schools of their choosing within six months of completing their undergraduate degree[1].
"Wake Forest has a long-standing commitment to social mobility and serving Pell-grant eligible and first-generation students, through programs such as Magnolia Scholars and First in the Forest," said Vice President for Enrollment Eric Maguire. "The new U.S. News indicators fail to recognize our commitments. Enrollment size appears to disproportionately benefit larger institutions. Wake Forest is very focused on increasing access and affordability for all students, and lowering barriers to access for low-income students especially."
Wake Forest recently announced an early action pathway for first-generation college applicants. President Wente also launched the For Humanity scholarship initiative in March 2022, which has raised $50 million dollars to date, with a goal of an additional $25 million to be raised this academic year.
The new U.S. News methodology elevated larger, research-intensive, public flagship institutions to more prominent positions. Twenty-one of the 29 universities among the top 50 with improved ranks are public institutions. Seventeen of the 18 universities in the top 50 with a lower ranking this year are among the nation's most highly regarded private institutions, including the University of Chicago, Dartmouth, NYU, Tufts, Washington University in St. Louis, and Vanderbilt.
Provost Michele Gillespie commented on the new emphasis on faculty research in the rankings: "Some of the best scholars in the country have chosen to make Wake Forest their academic home. While Wake Forest will continue to value teaching as much as research, the University's new strategic framework further emphasizes the importance of research, scholarship and creative exploration to the University and society."
U.S. News also ranks Wake Forest in the following categories:
No. 31 in undergraduate teaching
No. 25 in accounting
No. 14 in undergraduate engineering
No. 38 in undergraduate business programs
No. 34 in undergraduate psychology programs
"Wake Forest has never made decisions or determined University strategy based on chasing rankings such as those from U.S. News. We do not intend to start now," said Wente. "We will remain steadfast in our stated commitments, goals, and vision for the University, and continue striving to provide the best possible educational opportunities. We are committed to providing real data and success metrics to demonstrate the value of a Wake Forest education and its impact on the lives and careers of our students."
---
[1] Drawn from post-graduate outcomes survey data with an 87% response rate.
Categories: Top Stories, University Announcement
Wake Forest in the News
Wake Forest regularly appears in media outlets around the world.