Main Content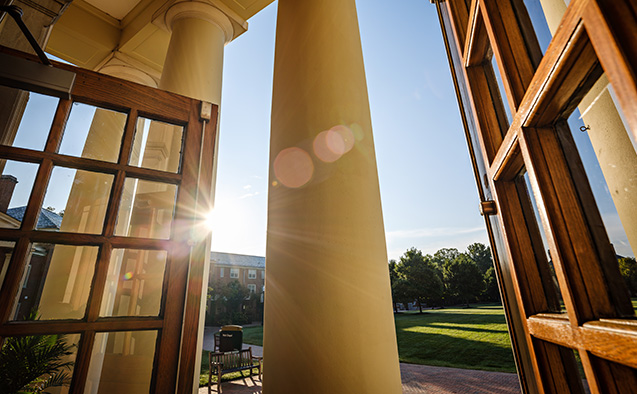 Wake Forest University is launching an initiative to further lower barriers to undergraduate admission for first-generation college students. The University will offer an Early Action option specifically for first-generation students to provide an additional pathway of opportunity. 
"Great universities like Wake Forest are called to be catalysts for good in society," said President Susan R. Wente. "This means lowering barriers to accessing the extraordinary educational opportunities we offer here. This initiative is one such way to make the path to Wake Forest clearer for first-generation college students, who often do not take advantage of early admission programs to the same degree as students from college-educated families do."
Wake Forest has well-established programs for recruiting first-generation students and helping them thrive once they arrive on campus. For more than 10 years, the Magnolia Scholars program has provided scholarships, academic support, study abroad opportunities and counseling for first-generation students. The First in the Forest program supports all first-generation students throughout their academic careers.
"Wake Forest has always had a deep commitment to first-generation students and supporting their access and success," said Vice President for Enrollment Eric Maguire. "The real advantage of this plan is that first-generation students who want to come to Wake Forest have a new option to apply Early Action and know that the University values their experience and wants to create more opportunity for them."
Launching this fall, the new Early Action plan will allow first-generation applicants who apply through this plan to learn of their admission decision early in the process – by January 15, while retaining their ability to consider other offers of admission and financial aid options before making a final decision. 
Wake Forest will continue to meet the demonstrated need for all accepted students as part of its commitment to making excellent educational opportunities affordable.
"We are focused on continually improving opportunity and accessibility and this is one important way to do that," said Maguire, who was the first in his family to graduate from college. 
First-generation students are those whose parents did not graduate from a four-year accredited college or university. First generation can also include the children of parents who earned a degree in another country, immigrated to the United States, and are underemployed in the U.S. Whether domestic or international, if the student resides with and receives support from only one parent, the "first generation" classification is based on that parent's education. Additional details are available on the admissions website.
"With this policy, Wake Forest is the first top-30 national university to offer an Early Action option specifically for first-generation students." Vice President for Enrollment Eric Maguire
Applying through the non-binding Early Action plan will give students additional flexibility to apply to other schools before making a final decision. By further signaling the University's clear commitment to supporting first-generation students and providing additional flexibility, Wake Forest hopes to encourage more first-generation students to apply and put greater power in their hands to make the admissions decision that is right for them. These students will also continue to have access to Wake Forest's current Early Decision and Regular Decision admissions plans. 
Wake Forest's latest efforts build on the University's ongoing commitment to make its admission process as accessible as possible for students from a broad range of backgrounds and life experiences. More than a decade ago, Wake Forest became the first top-30 national university to adopt a test-optional policy. After the pandemic, institutions across the country adopted similar policies. 
"Wake Forest recognized early that not requiring standardized tests could open the door wider for those who may not have applied to selective colleges and universities," said Provost Michele Gillespie. "The University continues to lead the way in removing barriers for students and establishing pathways of opportunity."
Categories: Admissions, Top Stories
Wake Forest in the News
Wake Forest regularly appears in media outlets around the world.