Main Content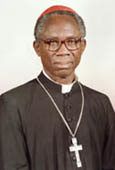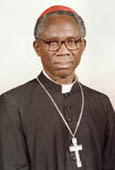 Cardinal Francis Arinze, a renowned Roman Catholic leader, will deliver Wake Forest University's 1999 commencement address on Monday, May 17. Approximately 1,446 undergraduate and graduate students will receive diplomas during the outdoor campus ceremony. The ceremony will begin at 9 a.m. on University Plaza.
Commencement is not open to the general public. Parking passes and tickets are required to enter campus and attend the event. Tickets are reserved for graduates and their guests.
Arinze, frequently mentioned as a possible successor to Pope John Paul II, is president of the Pontifical Council for Interreligious Dialogue, the Vatican's office for promoting mutual understanding, respect and collaboration between Catholics and followers of other religions.
Born in Nigeria, Arinze became an ordained priest in 1958, bishop in 1965 and an archbishop two years later. He was made a cardinal by Pope John Paul II in 1985.
About 828 students are expected to receive bachelor's degrees during commencement. Combined, Wake Forest's Graduate School of Arts and Sciences, School of Law, School of Medicine, and Babcock Graduate School of Management will award graduate and professional degrees to approximately 618 students.
Honorary degree recipients include Arinze; Richard Darman, a former Cabinet member for President George Bush and a partner in the global investment firm, The Carlyle Group; Michael DeBakey, a surgeon, teacher and medical statesman whose career includes innovations in cardiovascular surgery and the artificial heart; Betty McCain, secretary of the N.C. Department of Cultural Resources; and Andrew Young, former ambassador to the United Nations, vice chairman of the consulting company, GoodWorks International, former mayor of Atlanta and three-term congressman.
Commencement activities begin Sunday, May 16, with a baccalaureate service at 11 a.m. in Wait Chapel. The baccalaureate address will be delivered by Bill J. Leonard, dean of the Wake Forest Divinity School, which will officially open in August 1999. Leonard, a keen observer of religious trends and issues, is the author or editor of 13 books. His most recent book is "Christianity in Appalachia: Profiles in Regional Pluralism."
Hooding ceremonies, where professional school students receive colorful hoods to wear with their caps and gowns, are also on Sunday, May 16.
The law school's hooding ceremony begins at 1:45 p.m. in Wait Chapel. Andrew Effron, associate judge of the Court of Appeals of the Armed Forces, will speak during the ceremony.
The medical school's hooding ceremony will begin at 4:15 p.m. in Wait Chapel. The ceremony's speaker will be Dr. Timothy Pennell, professor of surgery, director of international health affairs and chief of professional services for the Wake Forest University Baptist Medical Center.
The hooding ceremony for MBA students from the Babcock school is scheduled at 7 p.m. in Wait Chapel. Ronald H. Butler, chairman, president and chief executive officer of Three Dog Bakery, a maker of animal treats, will deliver the hooding address. Butler is a 1984 graduate of the Babcock school's executive program and member of the school's board of visitors.
In the event of rain, the commencement ceremony will move to the Lawrence Joel Veterans Memorial Coliseum and begin at 9:30 a.m. Plans to move commencement to the coliseum will be announced by the local media beginning around 7 a.m.
For information about commencement, call 336-758-5788.
Categories: Commencement, Events, Speakers
Subscribe
Sign up for weekly news highlights.
Subscribe