Main Content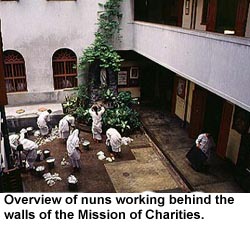 Two Winston-Salem residents, Greg Frey and Michael Hogge, will celebrate Christmas by traveling to Calcutta to help India's poor.
Frey, Hogge and nine other Wake Forest University students will depart Dec. 12 to spend two weeks in India volunteering with Mother Teresa's Missionaries of Charity. They will arrive back in the United States on Dec. 30.
In Calcutta, also called the "City of Joy," they will work at several homes for the destitute run by the religious order founded by Mother Teresa. These include the Kalighat Home for the Dying and Destitute; Prem Dan, a home for the mentally and physically handicapped; and the Shishu Bhavan orphanage. They will comfort the dying, bathe patients, clean clothes and bed linens, and care for children.
Wake Forest students will also work at Daya Dan, a home for mentally and physically handicapped children, and Nabo Jiban, a home that provides treatment for tuberculosis patients, but also bathes and clothes street children. At Daya Dan, volunteers will help with physical therapy and play with the children.
The students will arrive in time to fill in for long-term volunteers who leave Calcutta for the holidays. They will bring simple toys such as yo-yos and bubble solution for the children, but will also bring practical presents such as soap, lotion, powder and disposable razors for adult Calcutta residents.
Wake Forest junior James Han, who accompanied the group last year, is returning as the student leader of this year's group.
"I have always believed in the following: 'For unto whomsoever much is given, of him shall be much required: and to whom men have committed much, of him they will ask the more,'" said Han, referring to a passage from the Bible.
"Leading this year's group is an opportunity for me to give back to a program which I owe so much," he added.
Selected from 50 applicants, the students were chosen based on essays explaining why they wanted to go. Since September, the volunteers have met weekly to prepare for the trip. They have watched documentaries, studied basic Hindi phrases, learned about leprosy and other skin diseases, and discussed death and dying issues.
Wake Forest University students have traveled to Calcutta during the holidays since 1994. Angela Hattery, an assistant professor of sociology at Wake Forest, will accompany the group as the faculty leader this year.
Categories: Community, Student, University Announcement
Subscribe
Sign up for weekly news highlights.
Subscribe