Main Content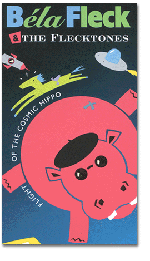 Grammy-nominated Bela Fleck and the Flecktones will perform at Wake Forest University on April 10.
The 7:30 p.m. concert will be held in Wait Chapel.
The group has preformed with Sting, Phish and The Dave Matthews Band. Led by frontman Bela Fleck on the banjo, band members include Howard Levy on the harmonica and keyboards; Jeff Coffin on clarinet, flute and soprano, tenor and baritone saxophones; Roy "Future Man" Wooten on percussion; and Victor Lemonte Wooten on bass.
The band's musical style features influences of improvisational jazz; American and European folk; and African, Spanish and Flamenco music with elements of Arabic, Indian, South American and Mongolian sounds. The group's latest album, "Left of Cool," crosses formats on 15 songs and includes vocals by Dave Matthews and Amy Grant.
Fleck first came on the music scene as a neo-country acoustic banjoist. A fixture with the group New Grass Revival for 10 years, he branched into an electronic and acoustic melange of music with the formation of the Flecktones in 1989. Fleck is the only musician to be recognized with Grammy nominations in pop, jazz, bluegrass, spoken word and country.
Tickets are $18 for Wake Forest students and go on sale Feb. 29 at 8 a.m. in Benson University Center, Room 335. Call 336-758-4869 for more information.
Tickets for the general public go on sale March 1 at 10 a.m. and are available at all Ticketmaster outlets, or by calling 336-722-6400. Tickets may be purchased online at www.ticketmaster.com. Tickets cost $18 plus any applicable service fees.
Categories: Arts & Culture, Events
Subscribe
Sign up for weekly news highlights.
Subscribe