Main Content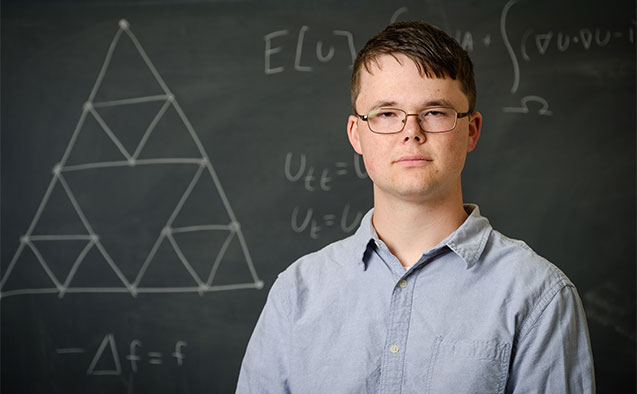 Dylan King, a senior mathematics and computer science major from Walnut Cove, N.C., has been awarded a Marshall Scholarship.
King's scholarship will allow him to complete a master's degree in pure mathematics at the University of Cambridge. The funds will enhance the breadth and depth of King's mathematical knowledge and provide valuable international life experience.
Established in 1953 to commemorate the Marshall Plan, the scholarships are awarded each year and provide for two years of graduate study at a college or university in the United Kingdom. Forty-four American scholars received the Marshall Scholarship this year.
"Winning this scholarship is a tremendous honor," said King. "I am excited for the opportunity to study at Cambridge, where I will take courses on the edge of modern research taught by experts in the field. I will meet other Marshall scholars, future leaders in their respective areas, and experience the culture of the United Kingdom."
"For me, receiving the Marshall is recognition of the product of four years of hard work, which would not have been possible without the wonderful Wake Forest community." Dylan King ('20)
King is the University's fifth Marshall Scholar.
"Dylan is a truly exceptional student, both in passion and ability for mathematics. He possesses a combination of innate mathematical brilliance and overwhelming desire to learn math which is almost daunting," said mathematics professor Sarah Raynor who has worked with King and recommended him for the scholarship. "I am very proud of this well-deserved honor for Dylan."
Following his studies at Cambridge, King will undertake a one-year research project at the University of Bristol.
In 2018, King was named a Barry S. Goldwater Scholar. He was selected as one of 211 students from around the country to receive the award and studied mathematics in Budapest, Hungary, during the 2018-19 academic year.
During the summer of 2017, King studied at Cornell University with professor of mathematics Robert Strichartz.
Categories: Admissions, Scholars, Student, Top Stories
Subscribe
Sign up for weekly news highlights.
Subscribe