Main Content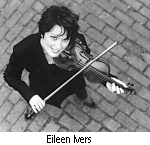 Celtic violinist Eileen Ivers, a seven-time, all-Ireland fiddle champion, will perform March 22 as part of Wake Forest University's Secrest Artists Series.
Best known for her performances with the original "Riverdance," Ivers will combine a wide range of traditional and contemporary Irish music in an 8 p.m. concert in Wait Chapel.
A five-member band and a tap dancer will accompany Ivers. The musicians are: John Doyle, guitar; Tommy McDonnell, vocals; Jerry O'Sullivan, uilleann pipes and flute; Emedin Rivera, percussion; and Leo Traversa, bass. Former "Riverdance" member Tarik Winston is the dancer.
Ivers will announce the program from the stage.
From her star role in "Riverdance" and her more than 30 medals in the All-Ireland Championships to her appearances with such diverse artists and ensembles as Paula Cole, the Boston Pops Orchestra and Kimati Dinizula, Ivers has become the preeminent proponent of the Irish fiddle in America. Her trademark is her blue violin.
Born in an Irish-American neighborhood in New York, Ivers started playing fiddle at the age of eight and eventually studied with Martin Mulvihill. Ivers began her performing career at Irish bars and festivals. She played with Mick Moloney in a group called Green Fields of America. She also played with Irish musician Seamus Egan and was a founding member of the all-woman folk group, Cherish the Ladies.
Ivers toured for a year with the rock duo Darryl Hall and John Oates. She has also been a featured player with the Hothouse Flowers, Luka Bloom and Patti Smith.
"She has a grand instinct for the theater of her music, the playing brimming with bright surprises. But the heart of everything she does is pure Irish music, which she plays as well as anyone in Celtic music today," said the Boston Globe. Ivers' recording credits include appearances on more than 60 contemporary and traditional albums. Her most recent CDs are "Wild Blue," "Back to Titanic" and "Crossing the Bridge."
Ed Bumgardner, arts reporter and popular music critic at the Winston-Salem Journal, will give a pre-concert lecture at 7:10 p.m. in the Balcony Room of Wait Chapel.
Ivers' concert is part of a weeklong Irish Festival sponsored by Wake Forest.
Tickets are $18 for adults, $13 for senior citizens and non-Wake Forest students.
They are available through the Wake Forest Box Office at 336-758-5295 or the Secrest Series office at 336-758-5757. Group discounts are available.
As part of the Irish Festival activities, Eileen Ivers will be signing CDs at the college book store on March 22 from 3:30 p.m. – 4 p.m.
Categories: Arts & Culture, Events
Subscribe
Sign up for weekly news highlights.
Subscribe