Main Content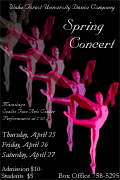 From Janet Jackson and Pink Floyd to original works composed by students, Wake Forest University's Spring Student Choreographic Dance Concert will span several musical genres during performances this month.
Ten students and two faculty members choreographed the show that will be performed at 7:30 p.m. April 25-27 in the MainStage Theatre inside Scales Fine Arts Center. The concert will feature modern dance, contemporary ballet, jazz and tap. Music will include pieces composed by students and works from Broadway shows. Hits by popular artists like Britney Spears, Michael Jackson, Pink Floyd and others also will be used.
Choreographers for the show include seniors Jessica Poirier, Emma Jane White, Hope Walters, Allyn Rubright and Diedre Washington. Junior choreographers are Brooke Hannum, Meg Ackley, Alice Green, Sarah Tejan and Colby Waller. Sophomore Mary Bonner Seay also choreographed a piece.
Brantly Bright Shapiro and Robert Simpson, both adjunct faculty members in the theatre and dance department, also choreographed pieces for the show.
The costume designer is Lisa Weller, the costume shop supervisor for the theatre department. The lighting design is by Jonathan Christman, an assistant professor in the theatre department.
Tickets are $10 for adults, and $5 for students, children and senior citizens. They can be purchased at the door or by calling the Wake Forest Theatre Box Office at 336-758-5295. The box office is open weekdays from noon until 5 p.m. It is also open one hour before performances. Reservations are strongly encouraged.
For more information, call 336-758-5295.
Categories: Arts & Culture, Events
Subscribe
Sign up for weekly news highlights.
Subscribe