Main Content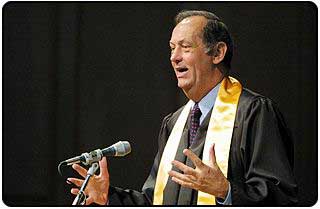 Former U.S. Senator Bill Bradley told an audience at Wake Forest University's Founders' Day Convocation on Feb. 27 that it is nearly impossible to predict the future, but there is honor in working to improve it.
"You don't have to give up idealism to succeed in America," Bradley said. "You can change things, then your world and your community will be a better place."
More than 1,000 people gathered for the 11 a.m. ceremony, despite a freezing rain that continued throughout the morning.
Bradley said the two main challenges in today's world of increasingly rapid change are globalization and technological advances. For all the positive changes that globalization and technology create, he said they have also furthered the reach and scope of terrorism. Bradley said stateless individuals have become like terrorist franchises around the world.
"The threat of terrorism is different than anything we have ever faced before," Bradley said. "It is a world where we all have to live with more insecurity."
Bradley recalled air raid drills as an elementary school student during the Cold War, when hiding under a desk was supposed to be protection from a nuclear attack. He said today, like then, fear of a potential war must figure into daily life.
In a press conference prior to convocation, Bradley told reporters that unilateral action against Iraq, without support of historical allies, would be a big mistake.
"Al Qaeda is a much more serious threat than Iraq," he said.
During his address, Bradley said the most powerful way for the United States to lead is by example.
"We should be an example of pluralistic democracy," Bradley said. "When the economy comes back, and it will come back, we should make sure we take advantage of it. We have to improve the quality of life for all Americans."
Bradley, a former member of the New York Knicks and NBA Hall of Fame member, opened his address with recognition of the Wake Forest men's basketball team, currently ranked first in the Atlantic Coast Conference.
"I make a habit of only speaking at schools ranked number one in their conference in basketball," Bradley said.
During the ceremony, the university recognized the football team, winners of the 2002 Seattle Bowl; the field hockey team, winners of the NCAA Championship; and the women's cross country team, winners of the ACC Championship.
Bradley attended a luncheon in his honor following the ceremony, then signed copies of his book "Values of the Game" at the College Book Store. He also held a private question-and-answer session with Wake Forest students later in the afternoon. This was Bradley's second visit to Wake Forest. He received an honorary doctor of laws degree in 1986 at the university's Opening Convocation.
Subscribe
Sign up for weekly news highlights.
Subscribe