Main Content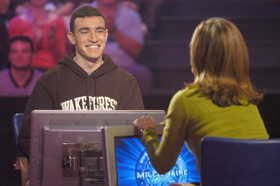 Wake Forest University senior Aaron Mass will appear on "Who Wants To Be A Millionaire" at 7:30 p.m. on Feb. 21 and Feb. 22 on the syndicated show's local affiliate, WXLV.
"I had a great time," Mass said of his experience on the show. "They say everyone has 15 minutes of fame and I suppose this show is mine."
Mass, an economics major from Setauket, N.Y., was one of eight students from universities across the country selected for the show's "College Week" edition. Other schools represented are Arizona State University, Duke University, Hofstra University, Purdue University, University of Colorado and University of Nevada at Las Vegas.
Episodes of "College Week" were taped Jan. 12 at the "Who Wants To Be A Millionaire – PLAY IT!" attraction at the Disney-MGM Studios at Walt Disney World Resort in Florida. Mass and the other seven contestants were treated to an all-expense paid trip to Florida and access to the various theme parks.
The syndicated version of "Who Wants To Be A Millionare" is hosted by Meredith Viera and is in its third season.
NOTE TO EDITORS: To contact "Who Wants To Be A Millionaire" call or e-mail the show's publicist, Trisha Miller, at 917-848-5787 or tmillsnyc@nullyahoo.com.
Categories: Student
Subscribe
Sign up for weekly news highlights.
Subscribe