Main Content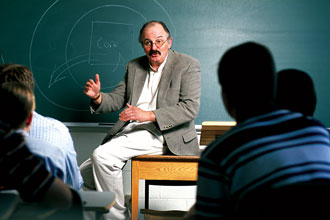 David Coates, the Worrell Professor of Anglo-American Studies in the Wake Forest University political science department and co-author of the 2004 book "Blair's War," will present a lecture titled "Campaigning in Poetry, Governing in Prose": Tony Blair and New Labour Britain at 4 p.m. March 17 in Greene Hall, Room 162.
The free, public talk is part of the annual Hubert McNeill Poteat Lecture Series. Poteat, a widely-known Latin scholar, taught at Wake Forest from 1911 to 1956. The lecture series is designed to recognize and celebrate the achievements of Wake Forest faculty in research and scholarship.
Coates, who is British, said his talk will offer an American audience the rare opportunity to be briefed in depth on the domestic politics and policies of the United Kingdom.
"It is a chance to discover why Tony Blair, though so popular (in the United States), has become so unpopular at home, and yet why paradoxically his party is still likely to win a third term when he calls the next general election, which will probably come in May," Coates said. "It is also an opportunity to brief an American audience on the seriousness of New Labour's third-way politics, and to draw parallels with, and lessons for, the Democratic Party here in the U.S. as it struggles to find the appropriate voice and policy to win back power in 2008."
Coates took the title of the lecture from a Mario Cuomo quote that is often used by Tony Blair. He said the quotation draws attention to the perennial gap in democratic societies between political rhetoric before elections and political practice after them.
"The lecture will argue that that gap has actually lessened in the U.K. under New Labour – not so much because New Labour has delivered more, but because it has tended to promise less," Coates said.
For more information, call 336-758-5449
Subscribe
Sign up for weekly news highlights.
Subscribe