Main Content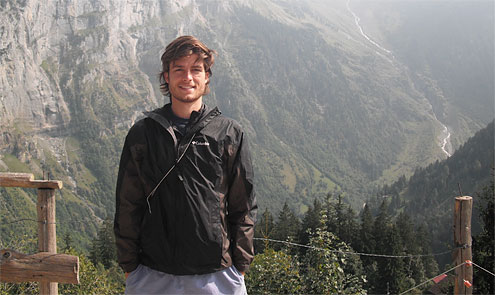 Senior Andrew Collins is spending this semester in Geneva with the SIT/Switzerland Global Health and Development Policy Program. A native of Florida, he couldn't be further from home, but as a biology major and public health enthusiast he couldn't be more in his natural element.
How did you learn of this opportunity to study in Switzerland?
About halfway through my junior year, I started looking into study-abroad programs. I wanted an experience that was based more on cultural interaction and personal research than on a set amount of formal courses. Once I discovered the opportunity, I knew I couldn't miss out on studying public health issues in Geneva.
What is your academic work like?
Since the program is a seminar-style approach to learning, most of the work involves visits to and discussions with members of international health and development organizations. I'm now beginning my personal research project, which will focus on environmental health issues, such as access to and sustainable development of fresh water resources. The program has also opened doors to academic and post-graduate job opportunities, especially within the field of public health.
In what ways has Wake Forest prepared you for this opportunity?
Previous research experiences in the field as well as in the lab has made a difference. Since taking Miles Silman's evolutionary biology course freshman year, Dr. Silman has helped me understand and develop research methods quintessential to my abilities as a student. As a part of his lab team in the biology department, I performed research alongside doctorate students, and the experience has proven invaluable.
What's been the biggest surprise you've encountered in Switzerland?
First, the sheer beauty of the country is unbelievable. Lake Geneva itself is great for swimming and boating, the surrounding mountains are perfect for hiking and skiing, and, since large-scale urban construction is restricted, the cities are surrounded by farms and vineyards. Second, but equally as important, the Swiss really do know how to eat well, especially when it comes to cheese. I try to enjoy the benefits of this daily. (Try some Gruyère. It'll change your life for the better.)
What's been the biggest challenge?
Switzerland has three official languages, French, German and Italian, so the language barrier has been a challenge.
Where are you staying during your study abroad?
I live with a Swiss family in Nyon, a small city just outside of Geneva. My family is amazing, and I couldn't have asked for a better situation. Living with a family allows you to experience more of the local setting and improves your language skills more than a class ever could.
What advice do you have for other students interested in study abroad?
I strongly encourage any student, regardless of their major, to go abroad. Developing and practicing human interaction, especially on an intercultural level, is a valuable and lasting skill.
Places you've visited during your study abroad:
The International Committee of the Red Cross
The World Health Organization
Several United Nations programs
The University of Geneva science departments
The International Labor Organization
Doctors of the World
Local hospitals
Categories: Arts & Culture, International, Student, Wake Forest College
Subscribe
Sign up for weekly news highlights.
Subscribe