Main Content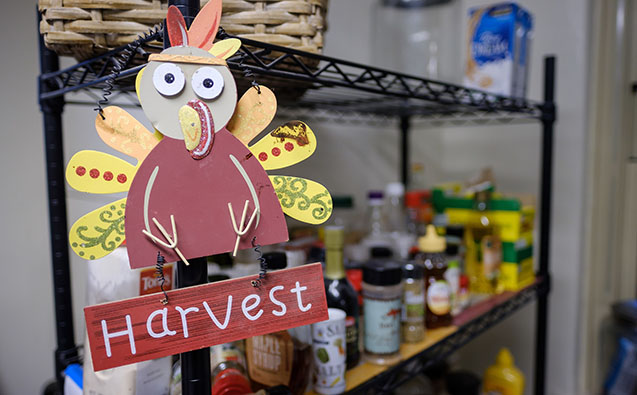 Besides attending class, studying and writing papers, about 50 Wake Forest University students will spend time Nov. 15-19 baking turkeys and making stuffing and other trimmings as they prepare 200 Thanksgiving meals.
It's all part of Turkeypalooza, an annual event sponsored by Wake Forest's Campus Kitchen that coincides with National Hunger and Homelessness Awareness Week. Brad Shugoll, associate director of service and leadership in the Office of Civic and Community Engagement, said despite the challenges presented by COVID-19, the University is just as committed this year to providing meals for families that need them as it has been since 2006.
"I think any way that we as a University can come together around supporting our community by providing a holiday meal is a great way to live into the spirit of our motto and also the spirit of Thanksgiving." Brad Shugoll, associate director of service and leadership in the OCCE
Beginning on Sunday, students will prepare meals for Azalea Terrace, N.C. Faith Health, Latino Community Services and Aster Park, non-profit University distribution partners who serve low-income residents and will determine who gets the meals. Students will deliver the meals to the organizations Nov. 17-20.
"These four organizations are identifying people within their reach that have a need for a Thanksgiving meal," Shugoll said.
Mareesa Ahmad, a senior communication major at Wake Forest, has volunteered with Campus Kitchen since her freshman year. She enjoys Turkeypalooza because she said it's a great way to spend time with friends, meet new people and give back to the Winston-Salem community.
"Thanksgiving has always been my favorite holiday," Ahmad said. "When I heard freshman year that Campus Kitchen prepares Thanksgiving meals for the community, I was all in. The atmosphere during Turkeypalooza week is just incredible. We've got music playing and the kitchen smells amazing."
This year, Ahmad's primary role is developing the recipes and making sure the required ingredients are on hand for each cooking shift. Different cooking stations will be set up for the different food items to be prepared.
Volunteering for Turkeypalooza seemed a natural fit for Ahmad because of what she and her family do back home in Harlan, Kentucky.
"We volunteer at the soup kitchen, washing the dirty dishes that come in," she said. "We visit the nursing home quite often, playing games with the residents, hanging out with them and just hearing about their life stories. "My parents instilled in me at a young age that it's really important to help those who are less fortunate, and I'm glad to attend a University that believes in that as well and affords me the opportunity to do so."
The Turkeypalooza volunteers will follow current health and safety protocols when preparing and delivering meals.
Campus Kitchen is also partnering with the School of Business' Graduate Service Coalition to coordinate a fundraising drive to support this year's Turkeypalooza effort. Donations can be made to https://crowdfund.wfu.edu/campaigns/turkeypalooza-2020.
For phone or Zoom interviews with Shugoll or Ahmad – or for University-provided photographs – please contact media@wfu.edu.
Categories: Pro Humanitate, Student, Top Stories
Wake Forest in the News
Wake Forest regularly appears in media outlets around the world.