Main Content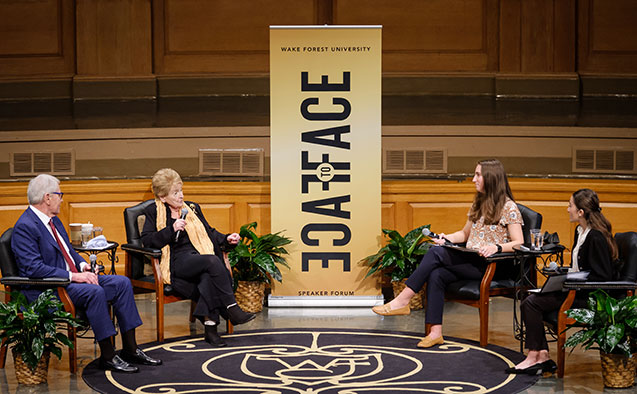 As part of the University's Face to Face Speaker Forum, Former Secretary of State Madeleine Albright and Former Secretary of Defense Chuck Hagel fielded student questions at a special program in Wait Chapel.
Scholars from the University's Program for Leadership and Character, Rachel Edwards and Ani Garcia-Velez, who is also a Stamps scholar, led the moderated session.  
Albright and Hagel, having dedicated their lives to public service, shared lessons from their careers. The former Secretaries talked about their personal journeys and covered topics from military decision-making to women in politics to misinformation and disinformation to governing in a polarized society. 
Hagel, who was twice wounded serving in the Vietnam War and the first Vietnam veteran to serve as U.S. defense secretary, answered questions about the withdrawal from Afghanistan. Whether and when to use military forces "is one of the most serious questions we face," he said. "It is easy to get in and hard to get out."
When appointed to her role in 1997, Albright said it never occurred to her she could be secretary of state. "It was an honor and a surprise. I was confirmed 99 to nothing. The only senator outstanding was traveling." She is committed to encouraging women all over the world to run for office and do the work that needs to be done. "Democracy is not a spectator sport," she said.
Hagel added, "It's so important that our best young people get involved in politics. Not one social advancement has been made in this country without young people."
After the Q&A, students were invited to attend the Face to Face Speaker Forum main event in the Joel Coliseum featuring Albright and Hagel. In addition to the conversation, there was a special tribute to General Colin L. Powell, USA (Ret.) at the beginning of the program. Powell, who was originally scheduled to participate in the Face to Face Speaker Forum with Albright, passed away on October 18.  Veterans attending the event were recognized for their service.
Categories: Events, Top Stories
Subscribe
Sign up for weekly news highlights.
Subscribe