Main Content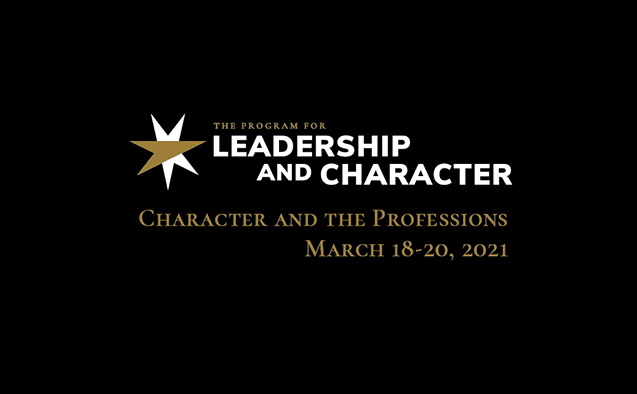 Leading scholars will join physicians, attorneys, religious leaders, government leaders, engineers, educators, business executives and other professionals to explore the role of character in the professions at a three-day virtual conference.
"Character and the Professions," hosted by the Program for Leadership and Character at Wake Forest University and the Oxford Character Project at the University of Oxford, will be held March 18-20.
The conference is free and open to the public, but registration is required.
In partnership with the Face to Face Speaker Forum, the conference will feature an opening keynote session with former U.S. Secretaries of State, Madeleine K. Albright and General Colin L. Powell (Ret.), who will discuss leadership and character in public life. The March 18 online conversation is a preview to their scheduled Nov. 9 in-person presentation at Wake Forest.
The virtual conference will provide a special opportunity for students, faculty, staff, and professionals to explore the importance of character in various professional settings and consider ways of cultivating character in their personal and professional lives.
"The professions have a special opportunity and obligation to promote personal integrity and to advance social trust," according to Kenneth Townsend, Director of Leadership and Character in the Professions at Wake Forest and one of the conference's organizers. He continued, "We are excited to host this conference that we hope will be of interest and value to students, scholars, and professionals alike."
Sessions will examine virtues that are most important for professionals in business, engineering and technology, law, medicine, public life and religious leadership. By bringing together distinguished scholars and respected practitioners in each field, the conference will explore new ways of understanding the theory and practice of ethical leadership while also focusing on insights from particular professions.
The conference will consider questions such as:
What obligations do professionals have for advancing the public good?
What distinctive virtues are most important to ethical leadership for professionals? What vices are most dangerous or tempting?
How can character be educated or improved among current or aspiring professionals?
How do specific institutions, incentives, and cultures form or deform the character of professionals?
In addition to prominent scholars from around the world, speakers will include former U.S. Representative Donna Edwards, General Electric CEO Larry Culp, former CEO of Catholic Relief Services Caroline Woo, and many others across various professional fields.
Wake Forest School of Divinity Dean Jonathan L. Walton will deliver the March 19 keynote address on "Character and Religious Leadership."
The following Wake Forest University leaders will serve as moderators for panel discussions: Jane Aiken, Dean of the School of Law; Jill Crainshaw, Vice Dean of the School of Divinity; Julie Freischlag, CEO of Wake Forest Baptist Health and Dean of the School of Medicine; Rogan Kersh, Provost; Olga Pierrakos, Chair of the Department of Engineering; Michelle Roehm, Dean of the School of Business; and Jose Villalba, Vice President for Diversity and Inclusion and Chief Diversity Officer.
The conference is funded with support from the John Templeton Foundation, Kern Family Foundation, and Lilly Endowment Inc.
More details on the conference, including a full schedule and registration link can be found here.
Categories: Events, Speakers, Top Stories
Broadcast Studio
Wake Forest University's Office of Communications and External Relations operates a fully equipped, professional television and radio studio to connect faculty members and campus newsmakers with global news media.