Main Content
Highlights
Wake Forest's program weaves together the liberal arts and character education.
With the support of the grant, the Program for Leadership and Character will transform the lives of students who seek to lead more ethically.
The grant provides for assessments to determine the impact of programming on students.
Lilly Endowment Inc. has awarded Wake Forest University a $3.4 million grant to develop and expand its Program for Leadership and Character. The three-year grant will support student programming, faculty engagement and academic research.
"With this transformative investment, Wake Forest will continue to build a pathbreaking program that weaves together the liberal arts and character education." Nathan O. Hatch, Wake Forest President
"We are excited to collaborate with Lilly Endowment to expand our work and create an innovative and internationally recognized program that will be a model for other colleges and universities," said Hatch.
For students, the Lilly Endowment grant will fund opportunities to take new courses, participate in leadership and character workshops and retreats, travel on alternative spring break trips and learn from distinguished guest speakers.
Faculty engagement opportunities will include course development grants and workshops, departmental grants, and leadership and character seminars and conferences. A set of postdoctoral fellows will also teach new courses on leadership and character across different disciplines and fields.
"We seek to support faculty interested in developing new courses, expand co-curricular programming for students, and deepen the commitment to leadership and character across the University," said Michael Lamb, who directs the Program for Leadership and Character.
Visiting distinguished speakers from the arts, humanities and various professions will expand and enliven the understanding of leadership. Working closely with a number of academic programs and offices across the College and professional schools, the program is building a coalition of faculty, staff and students interested in integrating character throughout the Wake Forest community. The University is exploring ways to teach students to be ethical leaders whose values, virtues and vision orient them toward the common good regardless of their field of study.
"We are thinking about leadership and character in an inclusive way that engages multiple disciplines and traditions." Michael Lamb, director of the Program for Leadership and Character
The funding will help grow the leadership and character team, reach more students through programming, courses and symposia and provide support for faculty who wish to incorporate this work into their courses.
The Lilly Endowment grant also provides for the development of rigorous, comprehensive and holistic assessments to determine the impact of the programming on students.
"Our thriving liberal arts education lets us examine aspects of leadership and character in compelling new ways," said Dean of the College Michele Gillespie. "With this support, we will offer exciting opportunities for students inside and outside the classroom while advancing scholarly research that evaluates the program's impact."
To extend the impact of the program beyond Wake Forest, the University plans to organize workshops and conferences to bring together faculty, staff and administrators from other institutions to explore how to integrate leadership and character and plans to create sample course materials and guidebooks as resources for other schools.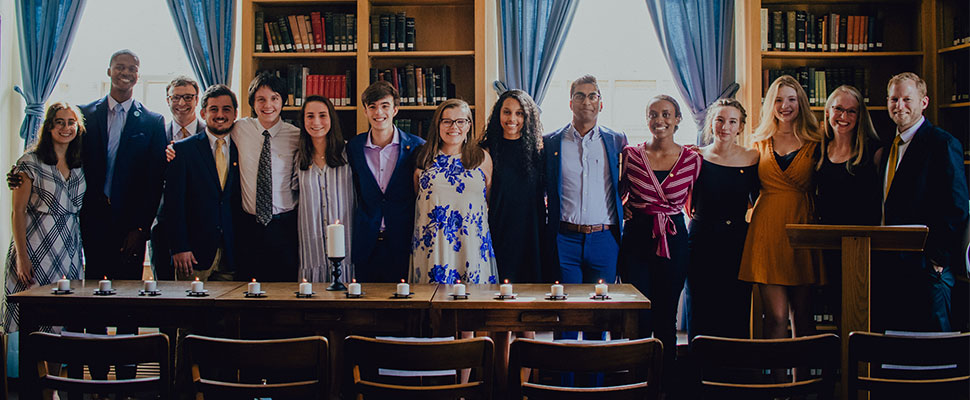 Building on a strong foundation
The first group of 10 Leadership and Character Scholars started at Wake Forest this fall. These are students with a record of academic excellence who have demonstrated exceptional moral leadership, character and service.
Over the past three years, the program has co-sponsored conferences, speakers and events with more than 40 departments and offices and built meaningful relationships with faculty and staff across the University. Known as a national leader in the study of character, the University has received several major grants to research character, including, most recently, a $1.6 million grant from the John Templeton Foundation to study the impact of moral role models on character.