Main Content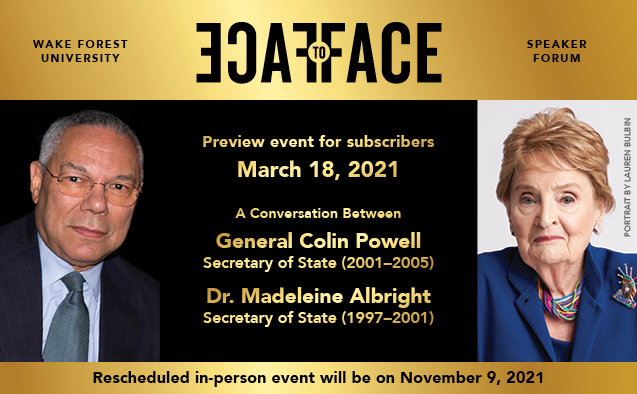 Wake Forest's Face to Face Speaker Forum will host Former Secretaries of State Madeleine Albright (1997-2001) and General Colin L. Powell, USA (Ret.) (2001-2005) for a virtual conversation on Thursday, March 18 at 7 p.m. moderated by Wake Forest University President Nathan Hatch.
This event is a free opportunity for Face to Face Speaker Forum season subscribers and sponsors. All current subscribers and sponsors to the Face to Face Speaker Forum will be automatically registered for the event. 
Those attending Wake Forest's Program for Leadership and Character virtual conference on March 18-20, "Character and the Professions," will have an opportunity to attend this Face to Face Speaker Forum Preview Event at no charge. 
Albright is a professor, author, diplomat and businesswoman who served as the 64th Secretary of State. When appointed to this role in 1997, she was, at that time, the highest ranking woman in the history of the United States government. As Secretary of State, Albright reinforced America's alliances, advocated for democracy and human rights, and promoted American trade, business, labor, and environmental standards abroad.
For more than 50 years, Powell has devoted his life to public service. Following his 35-year career in the military, he was appointed the 65th Secretary of State and was unanimously confirmed by the U.S. Senate. As Secretary of State, he led the State Department in major efforts to address and solve regional and civil conflicts. He also worked at the forefront of American efforts to advance economic and social development worldwide.
Due to ongoing concerns for public health and the safety of our event attendees, the in-person event with former Secretaries of State Powell and Albright has been postponed to Nov. 9, 2021. 
Wake Forest University launched the Face to Face Speaker Forum in spring 2020. The community-facing series was created to bring world-renowned, influential voices to Winston-Salem to discuss topics in a variety of areas including politics, arts and culture, business and social justice.
The 2021 Face to Face Speaker Forum season schedule can be found here.
Season subscriptions to all three in-person keynote events may be purchased online through the Face to Face Speaker Forum website. Single event ticket sales for in-person events will be available closer to each event, subject to availability.
Categories: Events, Top Stories, University Announcement