Main Content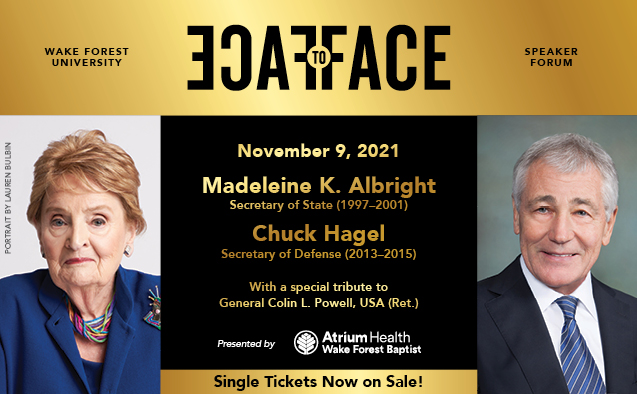 Former Secretary of Defense Chuck Hagel (2013-2015) will join Former Secretary of State Madeleine Albright (1997-2001) for the upcoming Face to Face Speaker Forum on Nov. 9 at 7:30 p.m. at the Lawrence Joel Veterans Memorial Coliseum.
In addition to the conversation, there will be a special tribute to General Colin L. Powell, USA (Ret.) at the beginning of the program. Veterans attending the event will be recognized for their service.
Powell, who was originally scheduled to participate in the Face to Face Speaker Forum with Albright, passed away on October 18. Both Hagel and Albright have praised Powell's lifelong commitment to public service and spent many years together as colleagues and close friends. 
Media are welcome to cover the tribute. Clips from the video presentation will be available. Photos and video are allowed for the first 30 seconds of the conversation segment of the program.
Prior to the event, a special opportunity is available for Wake Forest students and students from area institutions of higher learning to engage with the speakers in a question and answer session at Wait Chapel at 5 p.m.
About Hagel
Hagel served as the 24th Secretary of Defense under President Barack Obama. He is the only Vietnam veteran and the first enlisted combat veteran to serve as Secretary of Defense. He led major initiatives for service members and their families, including increasing resources for suicide prevention, combating sexual assault and accounting for missing personnel. 
Hagel launched the Defense Innovation Initiative to better prepare the Pentagon for future threats, and enacted comprehensive reforms to the Nuclear Enterprise and Military Health systems. He also improved partnerships with the Department of Veterans Affairs to include continuity of mental health services and support.
A member of the U.S. Senate representing the state of Nebraska from 1997 to 2009, Hagel was respected by members of both parties for his ability to create strong alliances to get things done. 
He is the author of "America: Our Next Chapter," a straightforward examination of the current state of our nation that provides substantial proposals for the challenges of the 21st Century.
About Albright
Albright is a professor, author, diplomat and businesswoman who served as the 64th Secretary of State. When appointed to this role in 1997, she was, at that time, the highest-ranking woman in the history of the United States government. As Secretary of State, Albright reinforced America's alliances, advocated for democracy and human rights, and promoted American trade, business, labor, and environmental standards abroad.
About the event
The community-facing Face to Face Speaker Forum brings world-renowned, influential voices to Winston-Salem to discuss topics in a variety of areas including politics, arts and culture, business and social justice.
Single tickets are available for purchase here. Tickets are free for Wake Forest students and students from area institutions of higher learning.
This Face to Face Speaker Forum is presented by Atrium Health Wake Forest Baptist. A complete list of Face to Face Speaker Forum sponsors is available here.
Categories: Events, Top Stories