Main Content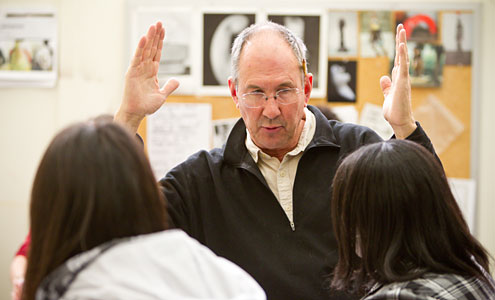 For his latest public-art project, Professor of Art David Finn has connected Wake Forest art students with high-school students to interpret their thoughts about race.
On June 10, the works created by the students will debut at the Liberty Arts Center, 526 N. Liberty St., in Winston-Salem. The one-night show, "Transforming Race," is from 6 to 8 p.m. and is free and open to the public. The show will then travel to local high schools before ending up at the Start Gallery in Reynolda Village.
The project was funded through the Kenan Institute for the Arts' ACCORD Initiative, in partnership with the City of Winston-Salem's Human Relations Department. ACCORD stands for Artists Contributing to Civic-Oriented and Responsive Democracy.
The students, five Wake Forest students and five students from local high schools, collaborated on works to express their ideas about racial identity and diversity. Ernie Wade, the committee chairman of the Human Relations Commission's Student Relations Committee, first led the racially diverse group in a discussion on race, then the students talked among themselves about ways to artistically interpret their feelings and ideas.
The role of the high school students, Finn said, was to talk about racial issues, and the job of his students was to make those ideas work as art projects. He reminded the students that their works couldn't be too abstract, or their audiences wouldn't get the messages they were trying to convey.
The students produced a number of pieces to capture their thoughts about race. One group of students created a three-foot mixing bowl.
Another group of students created a quilt with fabric in four colors — lime green, purple, orange and blue — at its corners, and with blocks of those colors moving toward and mingling in the center. The quilt represented a high school cafeteria, and the colors, races. For the most part, the high school students said, their peers tend to eat with people of their own race, but some will move away from those groups and mix with others.
The Wake Forest students in the project included Becky Bowers ('10); juniors Lauren Arrington and Courtney Whicker; sophomores Mary Alice McCullough and Katie Wolf; and a videographer, Courteney Morris ('10). The high school students who participated were Rae-Yao Lee, a junior at Reagan High School; Jonathan Cunningham, a sophomore at Mt. Tabor High School; and Victor Mendoza, Elizabeth Rosales and Brandon Wilkins, all juniors at Parkland High School.
The project is the latest in a long line of public-art projects coordinated or produced by Finn. Since his early days as an artist, he has wanted to share his work with the public. In his 20s, he made prints of his work so that he could give them away. After he painted a large mural in Ithaca, N.Y., he started thinking about making more big works that he could display in public. He began sculpting in 1982.
In the '80s, he made life-sized figures out of trash and placed them on the streets and in galleries in New York. After he moved to North Carolina, where he has taught sculpture at Wake Forest since 1987, he has worked on a number of public pieces. He made a whimsical, double-chess table that stands in Winston Square Park in downtown Winston-Salem. He created "Sculptural Climbing Wall," an artful retaining wall, that doubles as a place to play for children and a place to sit for adults, for a community center in Chapel Hill.
In April, he presented "Fictions," a series of six mobiles that he made with four Wake Forest students, at the Benjamin Branch Library in Greensboro.
Categories: Arts & Culture, Student
Subscribe
Sign up for weekly news highlights.
Subscribe