Main Content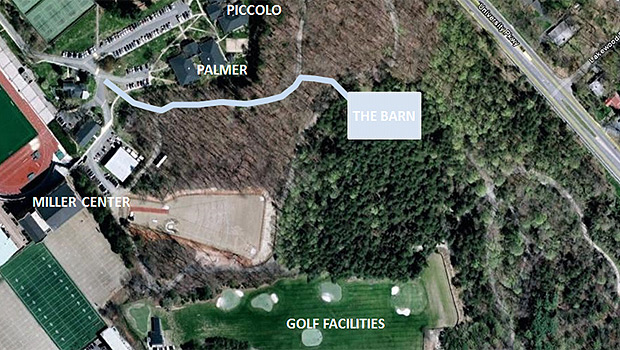 To provide additional space for on-campus social events, Wake Forest plans to begin construction this fall on The Barn, a new facility for students.
From live music to trivia night contests to parties, the 7,000 to 8,000 square-foot building will be a venue for student-planned social activities.
The facility will be flexible enough for hosting small gatherings and larger events for up to about 600 people.
Construction is scheduled to begin in October and will be completed by late spring 2011.
The process of finalizing the design for the structure is currently underway, but preliminary plans include a porch and a large open area with a stage for bands and DJs. Spaces for ping-pong and pool tables and a video game area are also under consideration.
The building is part of an overall plan to strengthen campus life and increase community vibrancy announced in August. The new building will provide students with the safety of an on-campus venue within walking distance of residence halls.
"We want our campus life to be exciting," said Ken Zick, vice president and dean for student affairs. "Our goal is to keep students on campus with an enriched repertoire of campus-wide activities, and this new on-campus social venue will allow student groups to host parties and celebrations. We are responding to student requests to build such a place."
The facility will be student-centered and is being designed with student interests in mind. Student leaders have provided input on both design and programmatic elements.
Student Government President Natalie Halpern was involved in the early planning stages. "I've talked to a lot of student groups and they can't wait to schedule events," Halpern said. "I'm very excited the administration has decided to do this to help move the social scene back onto campus. It will set us apart from a lot of other campuses."
Student organizations, including sororities and fraternities, will be able to reserve the space.
The site for the new building is located in the wooded area on campus between University Parkway and Palmer and Piccolo residence halls. The location was selected to minimize the impact of light and noise on university neighbors. Preliminary assessments indicate the surrounding trees will be an effective buffer. University officials are communicating directly with nearby neighbors to address any concerns about the new facility.
A well-lit path will lead to the facility from the central area of campus. Emergency call boxes will be placed along the pathway, and The Barn will be equipped with exterior security lighting.
The environmental impact of the building will be minimized, incorporating energy- efficient features, such as a rainwater collection system. Primarily scrub pines and dead trees were removed at the building site, while most hardwood trees were preserved. Facilities and Campus Services staff consulted with the biology department before removing any trees. They are also working with the athletics department and John Millar, director of track-and-field and cross-country programs, to reroute and improve cross-country trails affected by the new building.
A map showing the location for the new building and additional details about the project are available on the Campus Life web site.
Categories: For Alumni, For Parents, Student, Top Stories
Subscribe
Sign up for weekly news highlights.
Subscribe