Main Content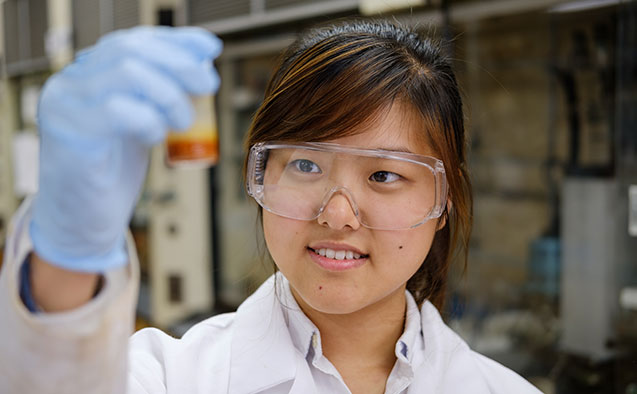 KyungMin Yoo, a rising junior who is majoring in chemistry, has been selected as Wake Forest's fifth Beckman Scholar.
As part of the Beckman Scholars Program, Yoo will spend two summers working on research related to wound-healing with chemistry professor Mark Welker. She has been working in Welker's lab for a year.
"Receiving the Beckman award will allow me to receive funding for the work I am doing now as well as to travel to symposiums and conferences, to continue working with the Welker lab members and to engage in research to lead to a successful career," Yoo said.
That is the intent of the Beckman Scholars Program – to develop future leaders of scientific research and innovation by providing exceptionally talented scholars with funding to pursue training in the fields of chemistry, biochemistry, physics and the biological and medical sciences.
Yoo will help develop molecules which could be used as modular additives to existing hyaluronic acid with the goal of improving its adhesive properties and its rigidity to improve its performance as a wound-healing aid.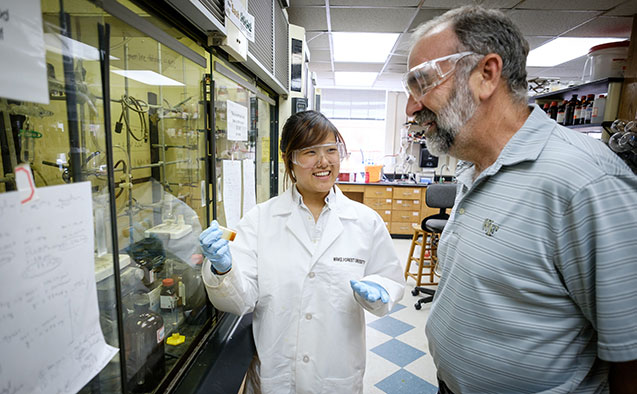 Yoo was sponsored in Welker's lab to be a summer research fellow by Wake Forest's Center for Molecular Communication and Signaling. She will continue her undergraduate research in his lab through summer 2017, supported by the Beckman funding of $21,000 which covers stipends, travel and supplies. Welker also receives $5,000 in support.
"Research is so much of who I am now and what I do," Yoo said. "I think critically now, more independently. I'm more confident."
Background on Beckman
Wake Forest was selected in 2014 for the Beckman Scholars Program funding, which is supported by the Arnold and Mabel Beckman Foundation. The original funding was to support five freshmen and sophomores capable of carrying out undergraduate research projects with one of 15 faculty mentors in biology, chemistry or physics. Yoo is the fifth and final student selected.
Chemistry professor Rebecca Alexander, who served on the Beckman selection committee, said the college is seeking renewal of the program.
"The Beckman Scholars Program provides an added boost to a select number of our top science students, enhancing the excellent mentored scholarship that already exists at Wake Forest," she said. "We're excited to follow these students as they begin their graduate careers."
Subscribe
Sign up for weekly news highlights.
Subscribe