Main Content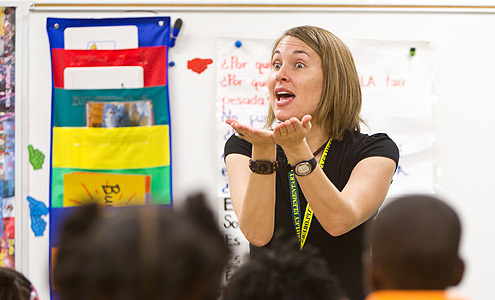 Two Wake Forest alumni — an elementary school teacher in Winston-Salem and a high school English teacher in Greensboro — have been named winners of this year's Marcellus Waddill Excellence in Teaching Award.
Amy Talley (MAEd '06), this year's winner on the elementary level, teaches Spanish at Ashley Elementary School, an international baccalaureate school in Winston-Salem.
Melanie Huynh-Duc (MAEd '05), the secondary-level winner, teaches ninth-grade English and journalism at Northwest Guilford High School in Greensboro.
Both winners received a $20,000 cash prize, one of the largest monetary prizes of any teaching award in the country. The Waddill Award is presented annually to two outstanding public or private school teachers who are Wake Forest alumni. The award, named for Professor Emeritus of Mathematics Marcellus Waddill, was created in 1994 and is funded by his son, David Waddill.
Talley has taught for ten years, including the last three years at Ashley Elementary School. She previously taught at Moore Magnet Elementary School and Kernersville Elementary School and in the Rockingham County Schools. She received her undergraduate degree in Spanish from Appalachian State University and her teaching licensure from UNC-Greensboro.
Talley said that teachers must have high expectations of themselves and their students and must show respect and caring for all their students. "Education is all about lighting a fire in our students, a passion for learning, thinking, questioning and improving oneself."
Huynh-Duc, who teaches ninth-grade English, has taught for six years, all at Northwest Guilford High School. She is also the adviser to the student newspaper. She received her undergraduate degree in English from UNC-Chapel Hill.
"I strive to make my classroom as creative, engaging and thought-provoking as possible," she said. "I want my students to learn how to think, not regurgitate, and I want them to feel comfortable in my classroom taking risks."
Both Talley and Huynh-Duc were honored at their schools in September, and each will be recognized at Wake Forest's Founders' Day Convocation next February.
Categories: Alumni, For Alumni, Top Stories
Subscribe
Sign up for weekly news highlights.
Subscribe