Think human rights violations are limited to developing nations? Patricia Willis, activist-in-residency with the women's and gender studies program, and students in her human rights class say 'think again.'
On Oct. 21, Willis' students organized the Human Rights Clothesline Project, encouraging members of the community to paint T-shirts to air concerns about human rights violations. On Manchester Plaza, men and women used fabric paint and brushes to write messages to raise awareness about issues such as children's rights, ending torture, rights for the handicapped and food justice. The painted T-shirts were hung on 60-foot clotheslines, creating a visual reminder of the need to address human rights issues worldwide.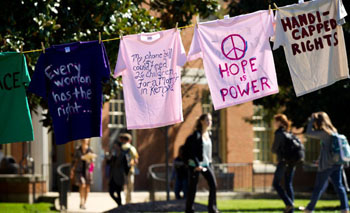 "In the U.S., we don't always understand the importance of human rights work domestically and globally because we tend to reject international law and the necessity for its application in the U.S.," said Willis.
"We weren't sure how enthusiastic people would be about creating the T-shirts," said sophomore Luke White, one of the students in Willis' class. "But all the shirts we brought were painted, and the project enabled a lot of discussion. That's what raising awareness is all about—people talking to each other about the issues."
Maggie Ryan, a senior in Willis' class, was one of the students who organized the event.
"One of the most important things I've learned so far is that human rights are violated everywhere—in the United States and abroad," Ryan said. "The U.S. is not immune to discrimination and violations. I want people to know that human rights violations are not something that only occur in some far-away place."