Main Content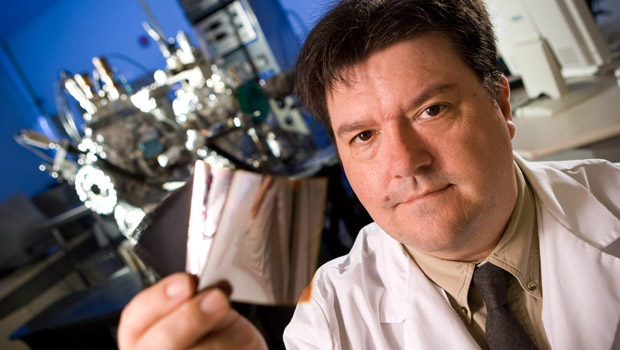 Researchers at Wake Forest's Center for Nanotechnology and Molecular Materials have developed an inexpensive new light source that's cool to the touch, won't break if dropped, and can be molded into any shape.
"Imagine that you no longer have to screw a light bulb into your lamp – because the lampshade is what lights up," said David Carroll, the lead researcher for PureLux Inc. and director of the Center for Nanotechnology and Molecular Materials.
A spin-off company from Wake Forest, PureLux Inc. has attracted $2 million in venture capital to bring the technology to market. Wake Forest founded PureLux Inc. in 2007 to commercialize the advanced lighting technology developed at its Nanotech Center. The company has begun to ready the technology for real-world applications – from back-lighting on e-books and self-illuminating street signs to work surfaces that light-up and replace lighting fixtures in office spaces, said Ken Garcia, president of PureLux Inc.
"Wake Forest is happy to be able to provide strong research to innovate lighting technology," said Mark Welker, associate provost for research at Wake Forest. "We're also happy to help fuel the economic strength of our region by encouraging corporations to take advantage of Winston-Salem's rich technology support and expertise."
Yellowstone Energy Ventures II, a Houston venture capital fund, led the new investment, and was joined by Prospect Holdings of Charlotte, N.C., and the university. NanoHoldings LLC of Rowayton, Conn., provided start-up funding in 2007.
The PureLux device uses nanotechnology to produce visible light directly; other solutions create light as a byproduct of heating a filament or gas. Unlike other new lighting solutions such as compact fluorescents, PureLux technology requires no warm-up period – it's bright as soon as you turn it on.
"If you have a lighting source that does not create heat as a byproduct and can illuminate a space as well as or better than any other solution, think about how much it can lower costs – and environmental impact – in every office building," Carroll said.
Because they are made of moldable plastic, PureLux lights can be used in multiple settings, from homes to commercial buildings.
"This device is made of a paper-thin film. It's flexible and efficient. It provides white light, and it has a long lifetime," Garcia said. "The potential for real-world applications is fantastic."
Categories: Research, Scholars and Scientists, Top Stories
Subscribe
Sign up for weekly news highlights.
Subscribe