Main Content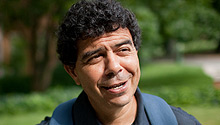 Wake Forest's Terrafinity project, which is working to produce biodiesel from inexpensive feed stocks and other sources, was awarded a $145,665 grant from the Biofuels Center of North Carolina. Chemistry professor Abdessadek Lachgar is one of the leaders of the project.
Categories: Faculty, For Alumni, For Parents, National, Recognition, Research, Sustainability, Top Stories, Wake Forest College
Subscribe
Sign up for weekly news highlights.
Subscribe