Main Content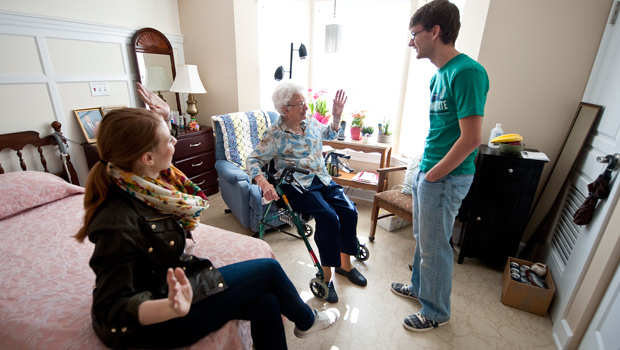 Last weekend, Joseph Belangia was chopping wood in rural Wake County to provide firewood to families in need. A few days before, he raced around Hearn Plaza to raise money for the Brian Piccolo Cancer Fund during Hit the Bricks. Today, he is working to achieve his goal to expand a service project at a local retirement community to 200 volunteers.
A spirit of Pro Humanitate has defined his college experience.
For the third consecutive year, the Fall Break Service Trip team traveled to Wake County, N.C., to serve the community where Wake Forest University was originally founded.
Belangia, a senior from High Point, N.C., and the team focused on the issue of homelessness and worked with Warmth for Wake, a program that supplies firewood to nearby families in need.
Shelley Sizemore, assistant director of campus life and service, led the service team in Wake County. As one of the few seniors on the trip, Belangia could have walked into the service project and been the student expert. Instead, he used the opportunity to listen and learn from his peers.
"Joseph approaches the campus and the community with such humility," she said. "Joseph doesn't volunteer for recognition and he never acts as if he is too good for any job. He just dives in and helps. It's apparent it is not about him, it is about serving others."
Pro Humanitate
The first in his family to go to college, Belangia has made it his mission to mentor other first generation students so that they too find their unique place at Wake Forest.
As a mentor for Magnolia Scholars and first-generation students, Belangia focuses his guidance on connecting students to campus resources and organizations. He has helped first-generation students get involved in service through Alpha Phi Omega, a national co-ed service fraternity. In fact, there are currently five Magnolia Scholars in the organization.
He has taken on the responsibility to organize two service events for first-generation students through First in the Forest, a program that he named.
"After my first point of contact, nearly 40 students expressed interest in volunteering at Second Harvest Food Bank and working on a Habitat for Humanity house build," he said. "Wake Forest students are not only connected and involved, but they are genuinely committed to the organizations that they serve. At Wake, we view Pro Humanitate as an extension of ourselves."
If you glance at Belangia's calendar, his intense passion for service, leadership and academics is clear. Currently, Belangia is a President's Aide; a Magnolia Scholar and First in the Forest mentor; a student advisor; an active member and recruiter for Alpha Phi Omega service fraternity; a team lead at The Bridge, the student computer repair in the ZSR library; and he is a leader in the classroom.
After the Forest
Born with a rare genetic condition, PKU, Belangia hopes to pursue a career as a genetic counselor. Anne Boyle, associate dean for student-faculty academic initiatives, has worked with Belangia since his first-year as his faculty advisor. As a mentor and advocate, she connected him with Carl Langefeld, professor of biostatistics at the medical school, so that Belangia can further explore his interest in genetic research.
"The faculty and staff are not only invested in myself and my peers, but they genuinely want each of us to find our passion and succeed," he said.
As Belangia considers pursuing medical research or continuing to work with information technology after graduation, Joseph knows he wants to keep making a difference for Wake Forest.
"My experience has been marked by the faculty, staff and students, and the investment they continue to make in me. I want to mentor and encourage the next generation of students."
Categories: Admissions, Community, For Alumni, For Parents, Pro Humanitate, Student, Top Stories
Subscribe
Sign up for weekly news highlights.
Subscribe