Main Content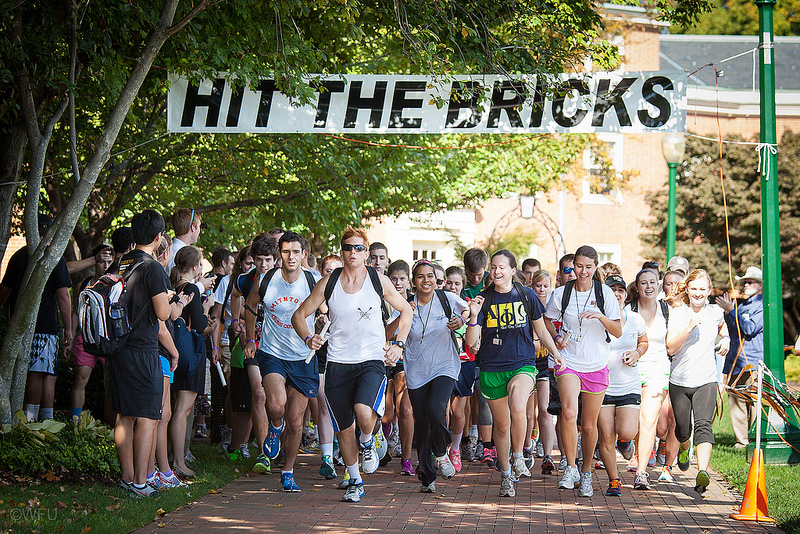 More than 1,000 students, faculty and staff participated in Thursday's Hit the Bricks event, an eight-hour relay race along the brick pathways on campus that honors the memory of Brian Piccolo, a Wake Forest All-American football player who passed away at age 26 from cancer during his career with the
Chicago Bears.
In 2003, at the inaugural Hit the Bricks, 17 teams participated and raised nearly $4,000.
Eleven years later, 89 teams participated. Together they raised more than $28,000 and nearly 23,000 laps were run around the plaza. All of the funds raised support the Comprehensive Cancer Center at Wake Forest Baptist Health.
In its 11 years, Hit the Bricks has raised almost $200,000 through the running of about 175,000 laps.
Elizabeth Jay, a senior business and enterprise management major was one of the three co-chairs of the 2013 Hit the Bricks event and has been involved since her first-year at Wake Forest.
"Hit the Bricks directly reaches and touches a lot of us," said Jay. "My mom passed away from cancer, so it means a lot to me to see everyone out on the quad together supporting the same cause and fighting for a cure for cancer."
The excitement and support that is felt on campus during Hit the Bricks is contagious – students, faculty, staff, kids, even dogs – come together for a great cause.
Jay received a text message from one of last year's co-chair letting them know that she would be watching on the "quadcam" all day.
Social media (#WFUHTB) and the new Hit the Bricks website helped to boost awareness of the event and allowed alums to participate from afar in a favorite all-campus event.
Categories: Campus Life, Campus Life Highlights, Events, For Alumni, For Parents, Philanthropy, Pro Humanitate, Student, Top Stories
Subscribe
Sign up for weekly news highlights.
Subscribe