Main Content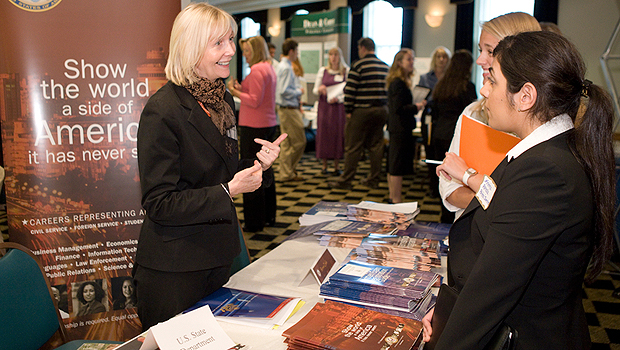 All types of organizations will be on campus Wednesday  for the Office of Personal and Career Development's Fall Internship and Job Fair. As students attend the event or meet with recruiters this fall, they will need ways to distinguish themselves in an increasingly challenging job market.
Viewing the world through the lens of sustainability and demonstrating practical experience with a "greener resume" can make a difference when applying for jobs, says Dedee DeLongpré Johnston, Director of Sustainability at Wake Forest.
A recent study found 93 percent of CEOs believe sustainability will be "important" or "very important" to the future success of their companies. DeLongpré Johnston offers three simple solutions for students wanting to bolster their green potential without greenwashing their resumes.
"Act like an 'intrapreneuer.' Seize opportunities for innovation and creativity – just like an entrepreneur – by incorporating sustainable values and practices into existing campus organizations and everyday life. Internships focused on sustainability are especially invaluable because they help students demonstrate to employers that they can think critically and solve problems."
"Start a 'green team.' Demonstrate results-driven leadership and help others develop more socially and environmentally responsible behaviors by evaluating the current level of sustainable practices on campus and taking action for improvement. Even small initial actions such as making available reusable mugs rather than using disposable cups can inspire larger scale changes over time."
"Look beyond job titles. Sustainability is a way of thinking, and opportunities are often embedded in functional areas such as marketing, research and development, and even accounting."
Tracey Watson never imagined her campus sustainability internship would lead to working with the Centers for Disease Control and Prevention on its "Go Green, Get Healthy" initiative. The 2010 Wake Forest graduate says promoting her on-campus experience was invaluable in landing and enjoying her job, which combines her personal and professional interests in the environment and health communications.
"I am one of the few people on my team who doesn't have a environmental science background, and in some ways that has helped me," says Watson. "Don't let your major discourage you from a career in sustainability – just follow your passion, be a self-starter and learn as you grow. There's plenty of room for progress."
Categories: Events, For Alumni, For Parents, Personal and Career Development, Sustainability, Top Stories
Subscribe
Sign up for weekly news highlights.
Subscribe