Main Content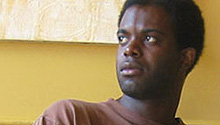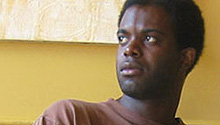 Kurt Cobain and Elliot Smith (singer-songwriters), Charles Taylor (former president of Liberia), and Jena Six defendant Robert Bailey Jr. are a few of the famous and infamous faces sharing wall space with the less notable in an exhibition at the START Gallery featuring the works of Rudy Shepherd ('98).
In anticipation of his visit this Homecoming Weekend and his gallery exhibition Friday and Saturday, Shepherd took time to answer questions about his work, what inspires him and how he found success in New York City.
Q. You graduated from Wake Forest with a BS in biology and studio art. Were you originally intending to pursue a career in biology?
A. I started at Wake Forest as a pre-med student, fully intending to become a doctor. After three years of biology, chemistry, organic chemistry and physics, I decided to take a sculpture class at the recommendation of one of my friends. David Finn's sculpture class changed my life! By the end of that class a fire had been ignited inside of me.
Q. You work in a lot of different media (sculpture, drawing, painting, photography, video, performance, etc.). Do you have a preferred medium?
A. I find that each medium has a certain way of communicating to the audience and has a specific history. I have found it advantageous to move from one medium to the next depending on the idea I am trying to express and the way I am interested in getting that message across. I think I am probably better at sculpting than anything else, but I am currently obsessed with painting. Sometimes I dream of just locking myself in a room with Internet access and painting materials and never coming out.
Q. Much of your work explores the grey areas between innocence and guilt. In particular, your criminal/victim portraits examine society's desire to make clear the line between acceptable and unacceptable behavior. Is this something that you've been working with for a while? Where and how did you develop an interest in the subject?
A. This project started with a series of sculptures called the Black Rock Negative Energy Absorbers, where I began thinking about the dark side of human nature, that part of all of us that causes us to mistreat and distrust one another. As I was working on the sculptures I began noticing evidence of my ideas everywhere, particularly in the sensational headlines of the Daily News and the New York Post. One in particular jumped out at me. It was a headline in the New York Post that read FRY BABY over the face of a young black man that looked vaguely like myself. This started a collection process that eventually led to a series of paintings and a whole body of work investigating the lives of both criminals and the victims of crime.
Q. With the negative energy absorbers you incorporate the rhetoric of new age mythology and ancient religions. Did you have the opportunity to study these concepts during your time at Wake Forest, or did you later develop an interest?
A. My interest in these things has come from my own tangential research. I'm interested in what people believe and how their beliefs affect how they behave in their own lives. The Black Rock Negative Energy Absorbers were meant to comment on the question of whether political art can change the world. I guess what I was trying to say is that art can change the world if you believe in it, if you are open to what artists are saying.
Q. You and your work are returning to Wake Forest. What do you hope the community will gain from this exhibition?
A. I have been dreaming about this moment for nearly 14 years, and it is really exciting to come back to Wake Forest and share my work with the community here. What people will see in the START Gallery is a cross section of what has been going on in my life — moments of great inspiration and discovery as well as tragedy and heartbreak. I hope that the viewers of this exhibition will find in it things they can relate to and that it echoes the ups and downs of their own lives. I also hope they will be moved to write down the names of some of these inspirational figures from my life and find out who they are and what they do.
Q. You're currently represented by a New York City gallery: Mixed Greens. How did you get the opportunity to exhibit there and what advice would you give to current art students who are wanting to break into the New York art world?
A. Funny you should ask. Mary Leigh Cherry ('98), one of my fellow students at Wake Forest and an art history major, came to visit me shortly after I moved to New York. While I was participating in the artist-in-residence program at the P.S.1/MoMA Contemporary Art Center in 2001, she came to my studio and brought along a friend of hers from Mixed Greens Gallery and introduced us. That started a conversation that has led to a 10-year relationship.
My advice: work hard, work really hard, really really hard, then get your work out there, show as much as possible, apply for residencies, grants, and shows, and have studio visits with whomever you can get into your studio. Don't be shy, you've got to sell yourself and be confident in what you're doing. Fortune goes to the bold. Remember that.
Categories: Alumni, Arts & Culture, Events, For Alumni, For Parents, Top Stories, Wake Forest College