Main Content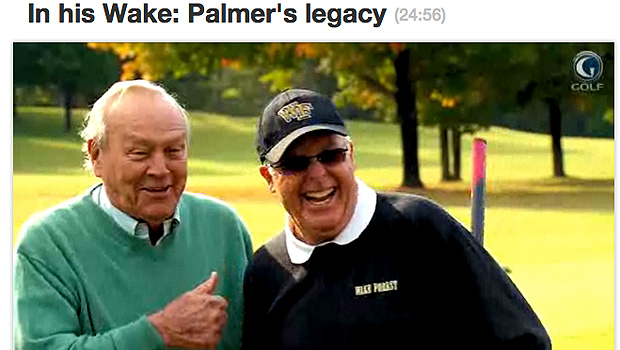 Three days of celebrating Arnold Palmer and Wake Forest golf concluded Monday, Oct. 17 with a pro-am tournament at Old Town Club.
A long list of Wake Forest pros came out to support Palmer, including Bill Haas and Webb Simpson, who just finished Nos. 1 and 2 in the FedEx Cup race. Other pros included: Jay Haas, Scott Hoch, Bill Andrade, Kyle Reifers, Jay Sigel, Robert Wrenn, Laura Diaz, Morris Hatalsky and John Maginnes, along with basketball star Chris Paul.
Simpson's team — he was paired with amateurs John Spanos, Todd Goergen and Pete and Burney Jennings — won the title.
The event capped a weekend that included Bill Haas opening the gate at the football game and the golf complex being named for Palmer during a Sunday reception.
The Golf Channel's Win McMurry caught up with Palmer and the tour pros who have followed in Palmer's footsteps. Bill Haas, the reigning FedEx Cup champion, talks about Palmer's passion for Wake Forest: "It's not often you can talk about golf and a school and you get choked up. It's amazing how he cares about Wake Forest, and it makes you realize that this place is a special place. It's more than a university to a lot of people, and just like him, we're all proud to be a Wake Forest Demon Deacon."
See more from the Golf Channel »
Palmer picks Deacons duo
Arnold Palmer has one way to settle any debate about this season's PGA Tour player of the year.
"I'd make Bill (Haas) and Webb (Simpson) co-players of the year," Palmer, 82, said during the pro-am. "Of course, I'm a little biased toward the Wake guys. But they are both great guys, and I'm so happy to see them doing so well."
Read about Palmer, Simpson and Haas in the Winston-Salem Journal »
More coverage

Categories: Athletics, For Alumni, For Parents, Top Stories
Subscribe
Sign up for weekly news highlights.
Subscribe